Bigger is not always better. Designing a small bathroom doesn't make you feel hopeless and trapped. In fact, it's something you should get excited about! Learning to embrace your petite bathroom and enhance its innate qualities will help make your small bathroom look and feel bigger.
You don't have to compromise style, luxury, or functionality in a small bathroom. Making a small bathroom feel bigger is all about learning to blend and transition smoothly from one area to another. The last thing that you want to do is to divide a small room until it's diced like a bowl of carrots. Keep things simple, clean, and elegant. Here are my expert tips to make a small bathroom feel bigger.
8 Tips to Make a Small Bathroom Feel Bigger
1. Glass Shower Doors
Glass shower doors help widen the room by increasing the amount of space that is visible from any given place in the bathroom. Instead of being enclosed and limited to the area surrounding your vanity and/or toilet, the shower is visible from the rest of the bathroom. Get rid of that old shower curtain in lieu of a modern shower door. A recent survey actually showed that glass shower enclosures are one of the most popular Bathroom Trends for 2014. This small renovation tip will help maintain home value in the future!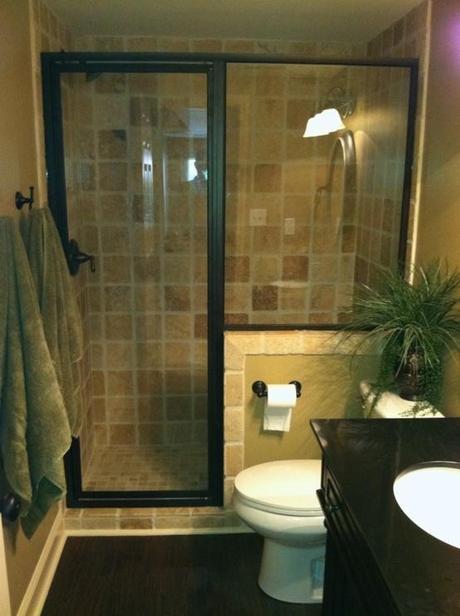 Image via Two Sevens.
2. Colors
Choosing the right color palette can have a huge influence on the look and feel of your small bathroom. Use light colors that are not imposing. Light colors will help reflect natural and artificial lighting in the room. This will brighten your small bathroom and remove that claustrophobic feeling of being trapped. You shouldn't feel cramped in small spaces that use an inviting color palette. Instead, your small bathroom will feel cozy, housing all of the essentials that you need.
Cool colors will make a small bathroom feel bigger and can also brighten the room. Find the right colors and paints for your bathroom here. Also, try painting with similar tones to make the room seem whole instead of segmented an already small space. While I'm not suggesting a monochromatic tone, choosing to accent whites with a cream or beige color is a great way to make a small bathroom feel bigger.
3. Floating Bathroom Vanities
Floating bathroom vanities began to emerge in late 2010. This style features a wall-mounted vanity that is lifted off the ground, giving it the illusion that the vanity is floating. Floating vanities are popular because they don't take up valuable floor space. These wall-mounted units allow you to see more of the room, instead of being hidden by cabinetry. For more information, this post outlines the style and design of floating vanities.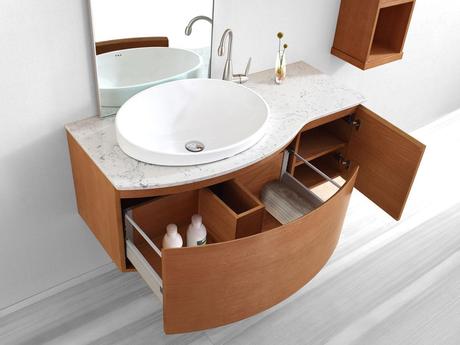 The 47.25″ Isabelle Single Bath Vanity shown in Chestnut. $1,379.00.
4. Tile to the Roof
If you're shower is tiled, you should take the tile all the way to the ceiling to emphasize the verticality of the room. Given that you have limited horizontal leeway, choosing to accentuate vertically will help emphasize another dimension of your bathroom. You can save money on your bathroom renovation by learning how to tile.
5. Mirrors
Mirrors serve 3 purposes; to help you get ready in the morning, reflecting light, and altering perception. Extending your mirror across the entire wall will reflect natural sunlight. Strategically place in locations that will reflect natural light for best results. This will help light dim bathrooms. It can also help cut down on your energy bill because you won't need to install more lighting for the same effect.
Aside from the lighting factor, mirrors alter your perception and make the room feel bigger. Instead of looking at a wall, you will be able to see a mirrored image on different sides of your bathroom. You can even personalize your guest room by learning how to etch your bathroom mirror.
6. Corner Sink
Corner sinks are cute, petite, and quaint. These sinks are out of the way and can help save space for moving around in the bathroom. Corner sinks may be a great option if you don't mind giving up a little counter space.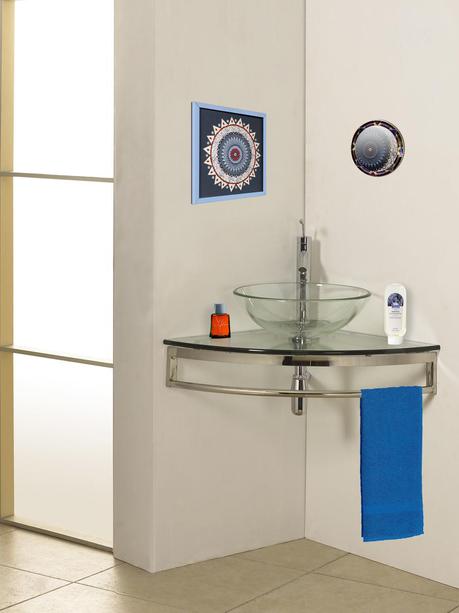 The 23″ Balboa Corner Single Bath Vanity. Only $265.00.
7. Styling
Style is all up to you and your personality, taste, and preference. You can choose from Mediterranean designs, Zen inspired bathrooms, or European designs. European bathrooms are gaining popularity in the states because they are normally designed for small bathrooms. This style is very forward, clean, and bold. European bathroom design can have a dramatic impact on the look and feel of small bathrooms.
8. Don't Cramp Your Style
Don't try to overdo your small bathroom by cramming it full with linens, novelty items, and other decorations. Being that you are already working with limited space, you want to maximize what you have and use everything as efficiently as possible. Instead of over-accessorizing, keep it simple, clean, and sharp. This will help emphasize the long lines in your bathroom and make it feel larger than it actually is.
Getting rid of the extra clutter can be a no-expense update for your bathroom. Check out these budget-friendly bathroom tips if you're looking to invest with some sweat equity. You can also try this DIY Bathroom Corner Shelving Project that will help utilize unused space above your countertop. You can also find some clever ways to make a small bathroom feel bigger by implementing some of these nifty bathroom hacks.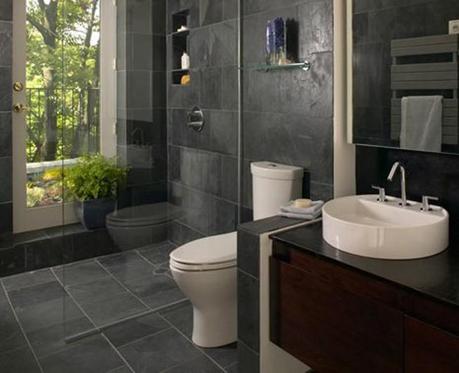 Image via Sweet Home Design Ideas.
More Tips to Make a Small bathroom feel bigger
Budget Remodeling for Small Bathrooms
How to Design Small Bathrooms
How to Make the Most of Small Bathroom Design
Tradewinds Imports.com is the webs leading online retailer of Small Bathroom Vanities. Shop with us Online or visit our San Diego Showroom!
Tradewinds Imports
4122 Sorrento Valley Road #107B
San Diego, Ca 92121
1-888-900-0477
About this Post
Cheryl Khan is an interior designer and freelance writer based in San Diego, CA. She is a Notebook fanatic. Having watched it nearly 20 times, she still cries every time!