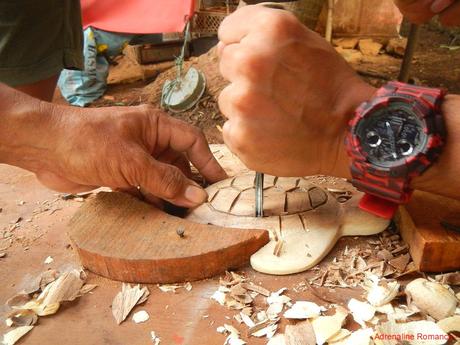 Traveling is not just about seeing popular attractions, engaging in exciting adventures, or tasting delicious local food. It is also about taking part in the destination's culture. It is about appreciating the unique trades, arts and crafts that locals uphold proudly. It is all about meeting humble locals and being mesmerized by their skills and talents. We were able to enjoy that unique experience thanks to Backstreet Academy. This was our first taste in cultural immersion, and it was a real eye-opener for us.
Sweetie, Alexa, and I didn't have to travel to experience this unique activity. It just involved a couple of tricycle rides to one of the barangays in Mactan, our home island.
We arrived at the modest Ferangeli Guitar Master, one of the many guitar manufacturers in Pajac, Lapu-lapu City, where we were to meet our host for this activity.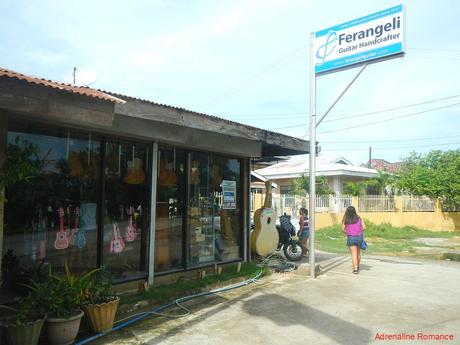 While waiting for Ann, we checked out their store where uniquely handcrafted guitars and ukuleles are displayed and sold. If the client desires, Ferangeli luthiers can customize a guitar, ukulele, rondalla, and even violins according to the customer's specifications.
Mactan-made guitars are world-class in quality and have been used by local and foreign artists. The woods that are used to make each guitar are carefully selected for their strength and acoustic quality. The manufacturing process is done in a temperature-controlled environment. Finally, each aspect of the handcrafted guitar is thoroughly inspected to assure excellent sound quality.
I drooled at the sight—and sound—of these guitars, considering that I am an avid guitar player. Perhaps Sweetie would want to give me a customized guitar for my birthday sometime this year. Hehehehe!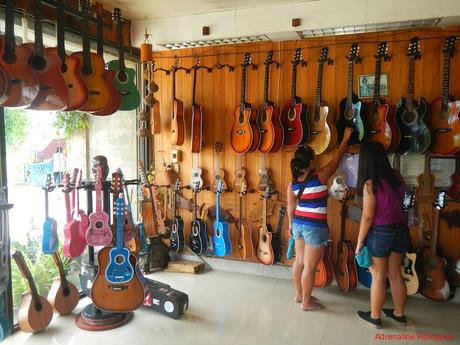 Aside from guitars, Ferangeli also sells high-quality wooden handicrafts and shellcraft as souvenirs. Yes, all of them are painstakingly handmade by talented and creative artists. Their guitars, handicrafts, furniture, and souvenirs are sold both locally and internationally.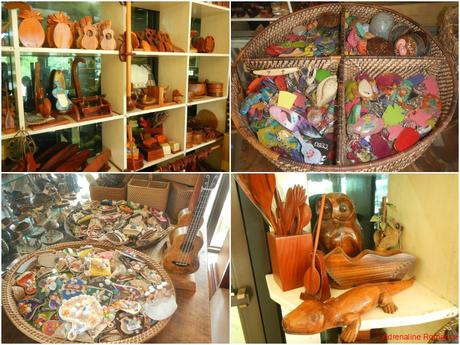 According to the shop's owner and master luthier Fernando Dagoc a.k.a. Andoy, the art and craft of guitar-making and wood crafting has been passed from generation to generation. Unfortunately, this seemingly immortal trade is dangerously threatened by high-tech and efficient technologies and tireless machines that spur mass production.
Sir Andoy is determined to save the craft of guitar-making. He showed us the back of his shop which he intends to convert into a school for luthiers and craftsmen. He also plans to put up a larger workshop, a conference room, and a showroom in his school.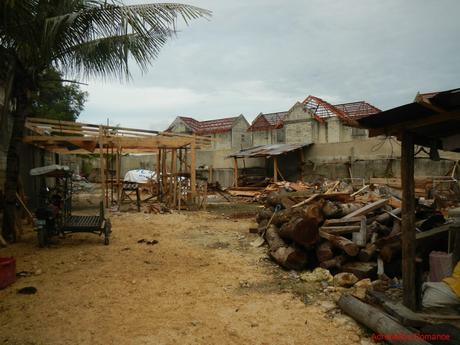 We then met Ann Simora, a host for Backstreet Academy, which is a unique peer-to-peer online travel platform. The organization aims to provide travelers immersive and cultural experiences in the destinations they are visiting. While travelers enjoy these unique activities, the local community benefits from such tours and visitations.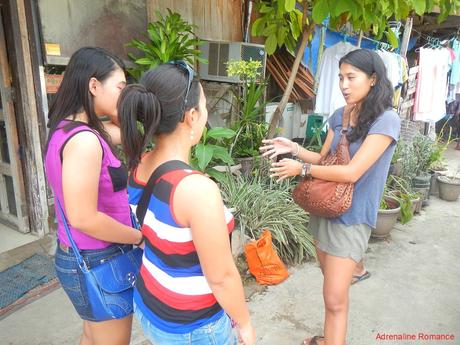 Wood Carving
After the formal introductions, Ann led us across the street to this small, simple open-air workshop. It may not look much, but hundreds of beautiful and detailed wooden handicrafts have been painstakingly made here.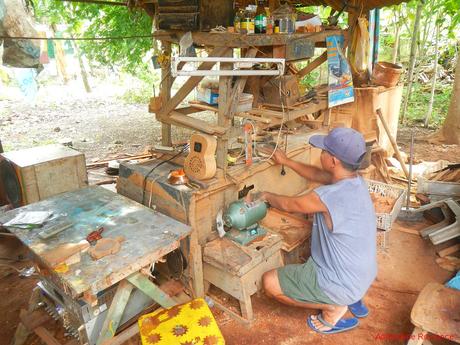 Our activity for today is to carve Woody from a block of wood. Who is Woody? Well, he is a wooden sea turtle paperweight, and his existence and appearance depend on our skill.
Loy, a craftsman, first primed up a grinding machine to cut out Woody's basic shape. We left this up to him because the process uses an extremely sharp circular saw rotating at high speed on the grinding machine. A careless slip can literally sever our fingers from our hand.
Better leave this part to the experts.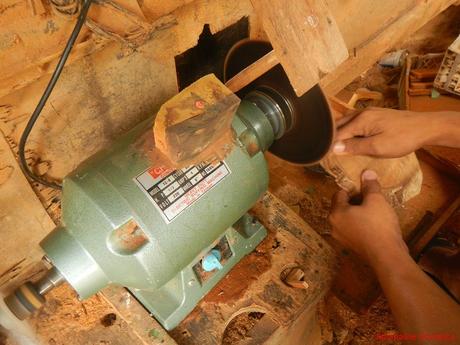 In a few minutes, Woody began to take his basic shape. This initial stage is called cutting.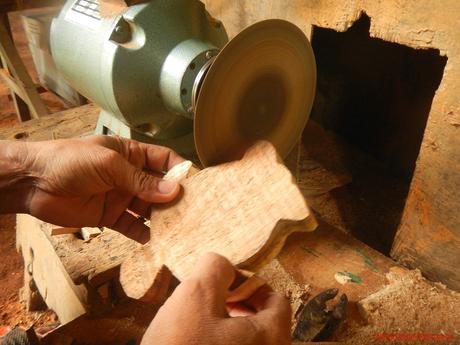 Various polishing and sanding discs are used to rapidly shape and smooth out blocks of wood. The artists use grinding machines to bring out the basic shape quickly to save time and effort.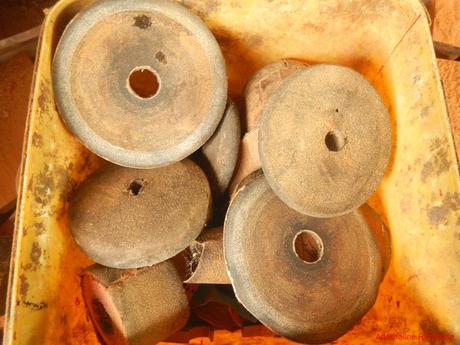 Now it's time to whittle Woody to shape. After securing Woody to a makeshift brace, Manong Roger, the master carver, showed us the proper way of handling the chisels that will be used for carving.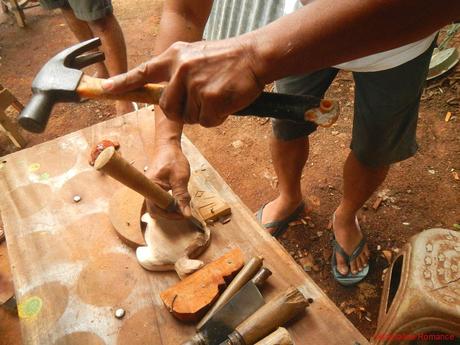 Look at all those well-maintained carving chisels! Each one has its own purpose and carving pattern.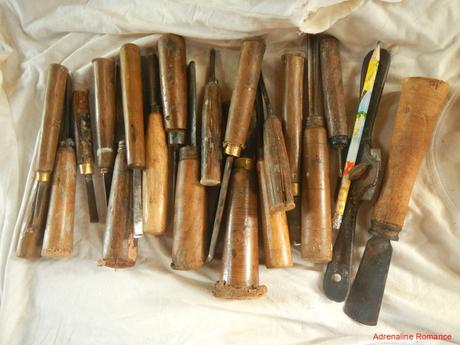 Here's a closeup of some of the chisels' blades. Be careful because those blades are quite sharp.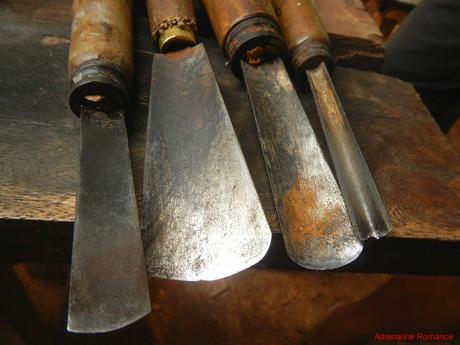 Under Manong Roger's guidance, Sweetie started her work on one of Woody's flippers. We were well aware of how awkward our position was; often, we had to go around the table to carve certain sections of our paperweight.
Manong Roger watched us with a bemused expression. He has been woodcarving for 40 years, and this turtle is just a piece of cake for him.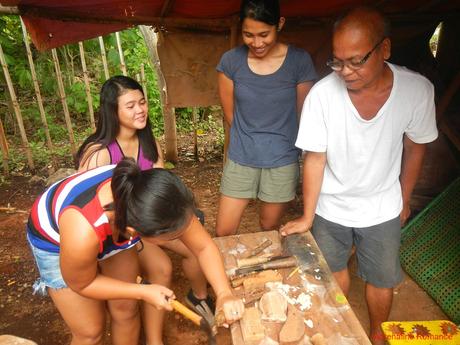 We gently whacked at chunks of extra acacia wood on Woody's flipper. But we quickly realized that there was a delicate technique involved to avoid accidentally cutting his flipper or taking out too large a chunk.
Manong Roger explained to us that we have to "bend" the chisel so that it will follow the contour of his flipper. In that way, his flipper will retain its shape. The technique also creates the downward slope of his shell. Yes, it is much harder than we thought!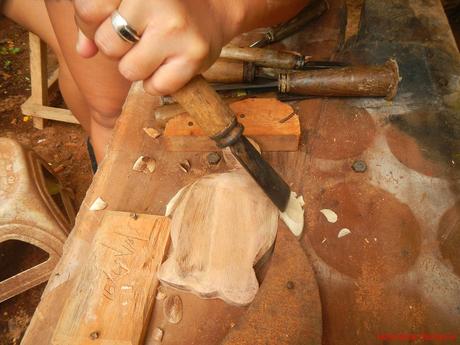 Another technique to make the work easier is to carve along the wood's grain. In that way, carving is "softer." Additionally, going along the grain prevents the wood from cracking.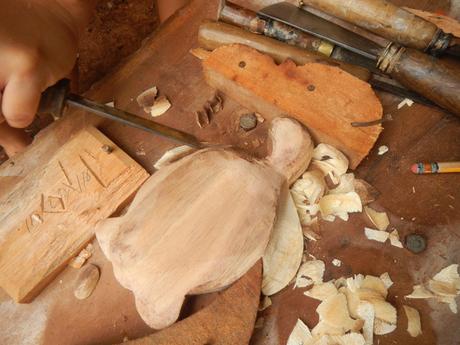 Manong Roger also showed us how to scrape imperfections and rough spots with a chisel. We don't use a hammer for scraping.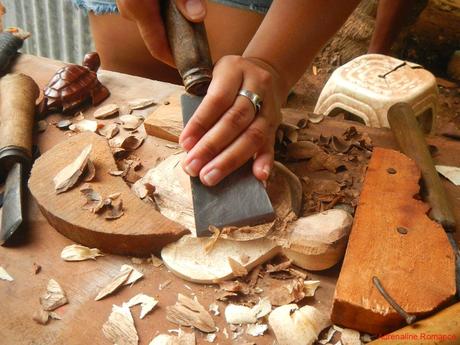 Look at Sweetie's determination to get Woody to shape.
Yes, it's truly hard and exacting work for a surprisingly small piece of wood. It required a lot of patience, an eye for details, a little strength and creativity—things that could only be perfected through time and fiery passion.
Through first-hand experience, we began to understand and appreciate the talent of our humble local craftsmen. Now, we have a huge amount of respect for these artists who put so much heart and effort into their craft.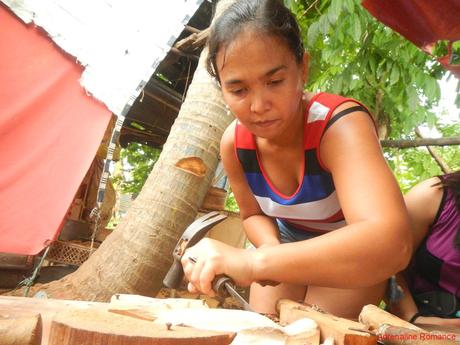 After Woody's flippers were thinned out, we began to work on his carapace. Manong Roger drew lines to guide us as we carved out the shell.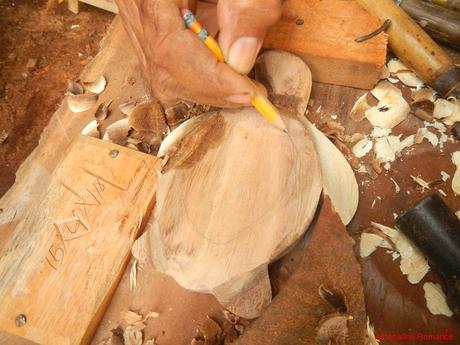 Whew! This was truly hard work! We whittled and scraped chunks of wood for more than an hour. Still, we could not get Woody's carapace to the exact shape and contour that we envisioned.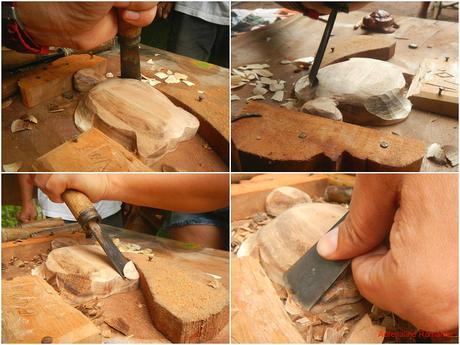 We were still far from getting the right contours, but it was getting late. The afternoon sun has started its slow dip on the horizon. Thus, we had Woody back into the grinding machine to smooth him out.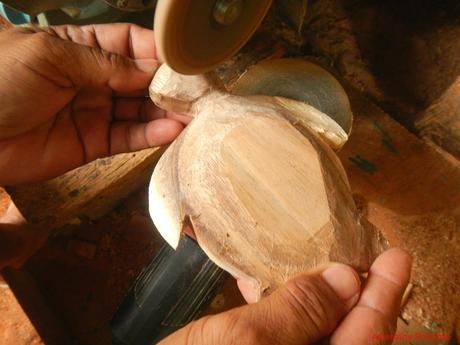 Once he's nice and smooth, it was time to carve the scalation of his carapace. Since we were first-timers in carving, we asked Manong Roger to draw a simple pattern on the carapace.
The shell pattern was carved using a very narrow, V-shaped chisel which digs "trenches" in the wood.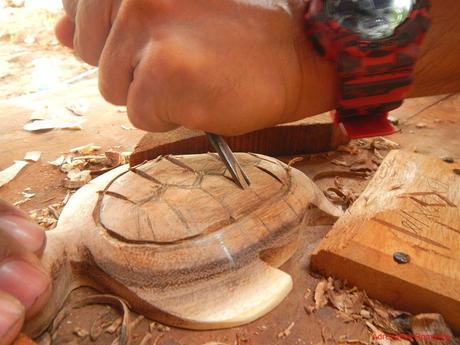 Finally, we asked Manong Roger to carve out our turtle's eyes and mouth. This is delicate work, and a slip can be injurious.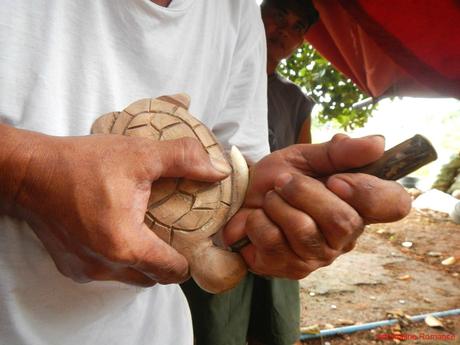 At 15 minutes past 5PM, our Woody was completed. He may not look anywhere like his more expertly carved brothers, but we were still happy and proud to have him.
Thank you very much to Ann, Manong Roger, Loy, and Sir Andoy for this wonderfully unique experience. We always have a great appreciation for arts and crafts, and experiencing it first-hand gave us a deeper love for it.
We strongly recommend travelers to get in touch with Backstreet Academy so they can try carving their own wood sculptures. You can add this experience to make your trip and adventure a more culturally immersive one.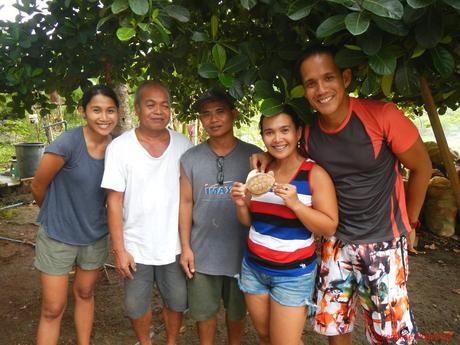 About Backstreet Academy
Backstreet Academy is a peer-to-peer impact travel platform empowering anyone in developing countries to create and sell a tour or activity to travelers who are looking for unique, local experiences. The local community, in turn, enjoys benefits as travelers participate in such tours and activities.
Their name comes from true travelers' love in delving into the destination's backstreets, hidden alleys, and unknown nooks. It is in these non-touristy places where they find the most authentic experiences that paint a very different perspective of the destination. Aside from learning from these unique experiences, travelers also connect with locals, appreciate their skills, and partake in their local traditions.
Backstreet Academy aims to become a travel platform that will democratize access to the tourism market, uplift impoverished communities, and connect people through intimate and memorable experiences. They envision a future in which travelers look for, appreciate, and take part of amazing local experiences as they would the popular attractions of the destination. From those experiences, they will feel a sense of connection and appreciation wherever they travel, bringing the world closer together while keeping old traditions and its people, not just alive, but celebrated.
For more information and to check out their offered activities, use the following details below:
Use these details to get in touch with their Cebu office:
Mailing Address: 7th Floor, Skyrise 1 Building, Inez Villa St., Cebu City, Cebu
Mobile: 0977-203-3565
Email: [email protected]