Experience: A Night of Lights at Nuit Blanche Toronto by Celeste Ramos | Insider's Toronto - Toronto Travel Guide | Canada Travel Services
It's no secret that I'm a fan of Toronto's art scene and that I'll lap up anything that's a little left of centre, and so when a few years ago a charming French neighbor of mine declared rather proudly one day that Nuit Blanche, a self-styled art, light and sound festival in the city was "the best night out Toronto could offer", I had to investigate! After attending for the past three years, I knew I was in for a treat at Nuit Blanche 2012, but just like every year it still managed to surprise me. I even took over 50s photos of the night! You can find them all here.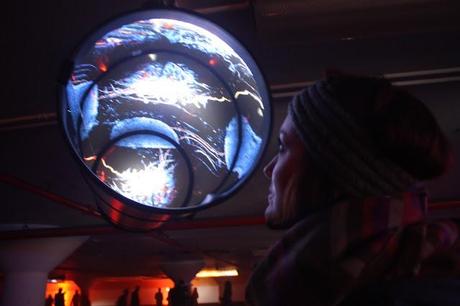 A quick explanation on Nuit Blanche: the festival takes place in the middle of the night and takes over the entire city. Running in the city since 2006, Nuit Blanche transforms Toronto into an all night art canvas with light shows, interactive art displays live performances, city buildings open to the public, soundscapes, floats, closed streets for art displays, craziness, performance art and general tomfoolery.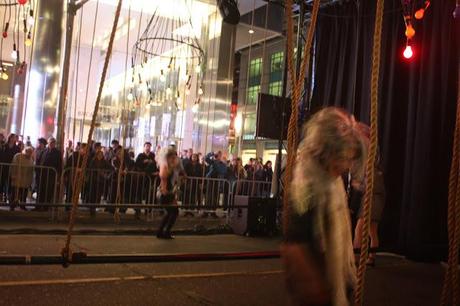 This year we began our Nuit Blanche experience at an event called Glow in the Park, which our friends told us was "like a universe inside a park". Intrigued, we set off for the park on our bicycles and arrived to a sea of glowing orbs scattered across an open section of lawn. With the full moon shining brightly over us, it felt like we were an essential part of the art, especially as people were encouraged to interact with the globes. There was a lot of juggling, throwing and kicking going on, while some people chose to spell out words with the bulbs – I think I even saw a couple of people running off with a few of them!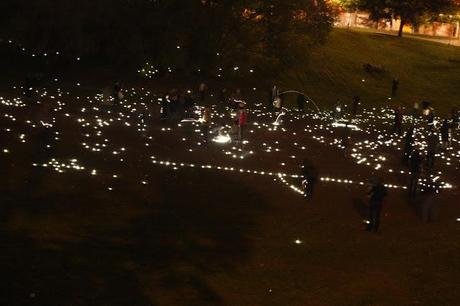 Moving on to Richmond 401, we were invited to have our photo taken at a display called Gallery 44. This was a recreation of Andy Warhol's Silver Factory including props such as vintage cameras and psychedelic clothing to pick and choose from – you could even transform yourself into Andy Warhol himself or one of his famous Factory Girls! At the basement of Richmond 401 were discovered a string quartet giving a live performance and were followed by an operatic duet!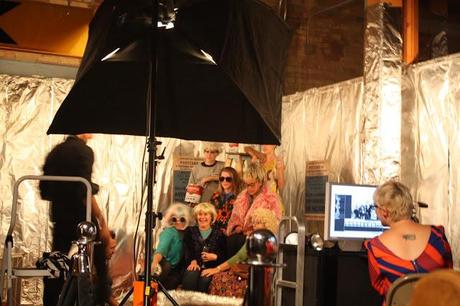 Riding through downtown along King St proved an adventure in itself, dodging traffic, many a drunken patron and other Nuit Blanche revellers. We then battled crowds on foot (always inevitable on this night) and fled underground to an entire floor of the parking lot under Nathan Philips square which had been curated with light displays, art concepts, and real life office settings with a twist: the whole exhibit is post apocalyptic and scenes play out with zombified actors!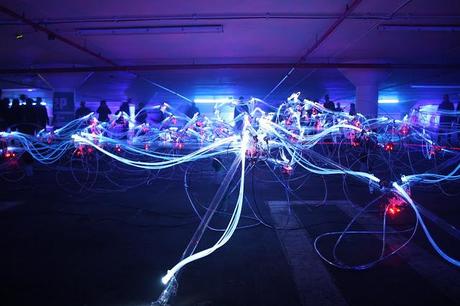 Lastly we topped the night off with "Space Invaders" – inspired by the video game, it was a life sized green critter light display in front of a regular downtown building and that sums up the beauty of the festival. Seeing amazing art displays in the most unusual and unassuming areas of the city makes you realize that art is truly all around us!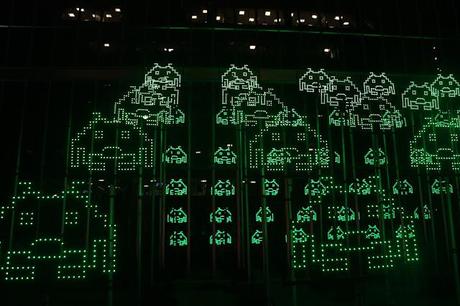 After a long night, we headed home on our bikes feeling buzzed and thoroughly satisfied know that when we got home and tucked up in bed our dreams would be filled with lights, sound, magic and wonder inspired by our night at Nuit Blanche.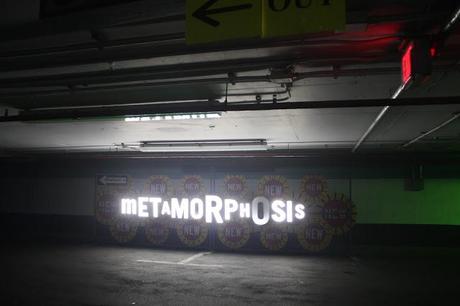 Event: Nuit Blanche Toronto 2012
Where: Toronto Downtown City
When: Dusk to Dawn
Cost: Free
Website: Nuit Blanche Toronto website
Public Transport : TTC (Toronto Transit Centre) runs throughout the night