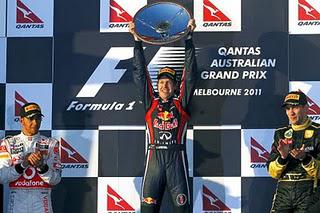 Can Lewis Hamilton challenge Sebastian Vettel in Malaysia?
One thing seems quite certain before the start of the first practice session in Kuala Lumpur: the man to beat in Kuala Lumpur will be Sebastian Vettel in his Red Bull. Teammate Mark Webber will have to show a much better performance compared to Melbourne two weeks ago if he wants to be at eye level with Vettel. If Red Bull has been able to sort out ther KERS-related issues, their competitors might find it difficult to stand the pace.
McLaren with Lewis Hamiton and Jenson Button, second and sixth in the season opener, have to show whether they can carry on their strong performance from Melbourne, where Lewis Hamilton was able to threaten Sebastian Vettel in the early stages of the race. McLaren for the last couple of years have been the team capable of improving their car the most in the course of the season and if this year is no exception, Lewis Hamilton and Jenson Button have to be on the list, also for a win in Kuala Lumpur.
Ferrari's problems in Melbourne, where Fernando Alonso and Felipe Massa only finished fourth and seventh, were mainly qualifying-related. The Ferrari drivers had huge difficulties to get the tyres up to temperature. Ferrari assumed that this issue was related to the specific asphalt in Melbourne. However, since considerably higher temperatures are expected for Malaysia, Ferrari will definitely be a force to be reckoned with.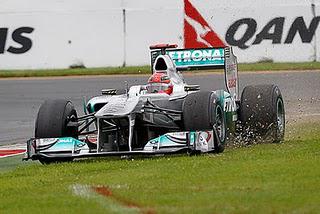 Bad start into the season for the Mercedes team
and especially for Michael Schumacher
The disappointment of the first grand prix of the season was the Mercedes team, with both drivers qualifying low on the grid and not being able to finish the race. Ross Brawn explained that the engineers had not been able to make all the updates work together. It will not be easy for Mercedes to sort out their issues without further testing possibilities and it is unlikely hat they will be in for a podium finish in Kuala Lumpur. It is very much possible that Mercedes will have to fight Lotus Renault and Williams, not to mention Sauber, who showed an astonishing performance in Melbourne, but were disqualified due to their rear wing not being within regulations.
Also rain could play a role this weekend, according to weather forecasts. Even if we are not in for a surprise like 2010, when McLaren and Ferrari misjudged the changing conditions and went out in qualifying 1,  rain could mix up the current pecking order and provide for an exciting qualifying and race. Perhaps an opportunity for the master of wet conditions of past years, Michael Schumacher. Never say never.