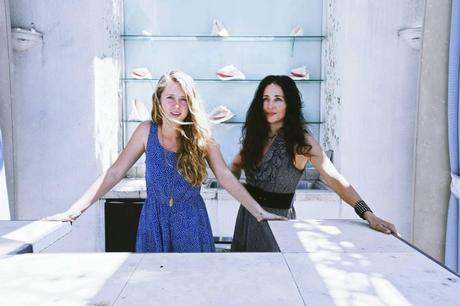 Fauntella Crow is not just one singer/songwriter but two.  This duo is made up by Jessy Greene who plays the Violin and Sunday Lane who plays the piano.  These two have amazing solo careers but when they come together it seems like everything is so seamless and they don't have to try very hard to make magic happen.  Sunday Lane is no stranger to Catch My Ear, in fact, she has done a interview with us in the past and we have reviewed her CD 'From Where You Are'.  We have also reviewed Fauntella Crow's EP called 'Lost Here', which you can read right here.
I would like to say thank you to the both of you for taking the time out of your busy schedule to sit down and answer these questions.  I have to say I love the EP you guys put out called 'Lost Here'.  It was done so wonderfully and everything just blended so well together.  I also want to let you know the EP got 5/5 stars (just incase you didn't already know that).  So we are very excited to be doing this interview with the both of you.
What made you two want to join forces, and how did you meet?
Sunday: We met through a producer we were both working with at the time. He asked Jessy to play violin on one of my songs and during the session we really hit it off and decided to write together. I went over to her home studio, we sat down and the first thing we played was what ended up becoming our song 'Lost Here'.
What is the favorite song that the two of you have made together so far??
Sunday: My favorite song is always the newest one we're working on! As far as the EP though, I'd have to say 'Lost Here' because it's the first one we ever wrote and I think it's just a beautiful song.
Jessy: I have to agree with Sunday… 'Lost Here' is really special since it was our first attempt at writing together. I actually love all our songs and I am especially excited about the new ones.
Have you played at any venues together recently?? If so what places were you favorite?
Sunday: We played a show at Hotel Cafe last month and we also played at SXSW. The SXSW show was really special because it was our first show and we both had really low expectations and were blown away by the positive response. It was a really special show and definitely made us excited for the future of this project.
You both have your solo careers as well as being in this duo how are you able to make time for both?
Sunday: For me it's less of an issue of making time for both and more just where I want to put my energy. Right now, I'm really excited about Fauntella Crow so I find myself prioritizing it. It doesn't mean that I don't want to keep or pursue my solo career, just that I want to put my focus on FC right now. Music is a beautiful thing because it can be appreciated alone and with others and I feel so lucky to have someone I like making music with as much as I do with Jessy!
Jessy: And I agree! Fauntella Crow is my favorite project, I love playing and creating music with Sunday.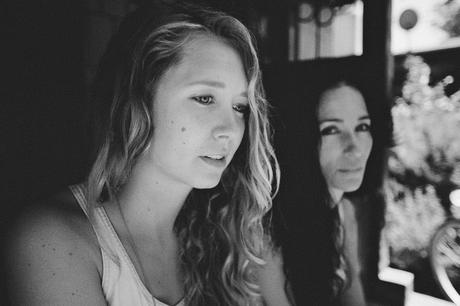 What is the writing process for when you two get together to write a song?
Sunday: Jessy and I are really good friends and enjoy talking to each other and processing life together. The majority of our songs have evolved from conversations we've had about life, love, friendships, etc.
Is there any new music either one of you are working on currently and when can we expect it to be out?
Jessy: Since releasing the EP, we've continued to write and record. We already have a few new songs that I'm really excited about and can't wait to put out for others to hear!
How did you come up with the name of Fauntella Crow?
Sunday: Fauntella Crowe is the name of an actress whose home Jessy was living in when we first started playing together. We both thought it was a cool name and decided Fauntella brought us together to make music

We dropped the "e" and went with it!
What type of inspiration did you get to write 'Lost Here'?
Sunday: The first time I went to Jessy's studio she picked up her violin, pressed record on logic, and I just started playing the 'Lost Here' melody. She jumped right in and after four minutes or so we both just kind of stopped, listened back and thought "yeah, we could write to this."
You both are amazing on your own instruments do you want to learn another one in the future?
Sunday: Thanks! I'm trying to learn guitar. Emphasis on trying.
Jessy: Thanks! I've got my hands full with the violin and cello and I am working on making drum loops!!
Besides your songs what is your favorite songs that are out so far?
Sunday: I've been really enjoying the Alabama Shakes 'Boys and Girls' album lately, especially the song 'Hold On'.
Jessy: I'm listening to all sorts of wonderful music and I'm not big on favorites. Lately, I've been listening to anything that makes me want to dance!!