One of the entryways to Red Square, никольская улица (Nikolai or Nicholas Street) is no longer open to vehicular traffic and has been made a pedestrian walkway. This is great news as it is a short street leading from the Lubyanka Square, past the Chinatown wall, and up to Red Square with the GYM ("ghoom") shopping center on the left, the Kazanskaya Cathedral on the right and the famous Nikolai (Nicholas) tower of the Kremlin straight ahead.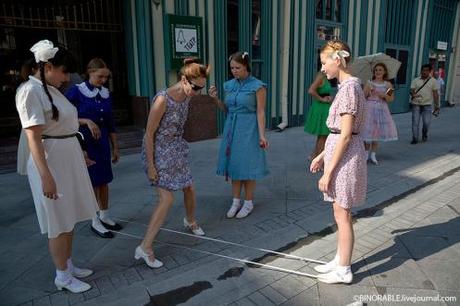 The entire street from Lubyanka Square (former KGB prison) to Red Square is now a pedestrian walk and has been decorated very nicely! On 25 August Moscow Mayor Sergei Sobyanin presided over the opening of the new pedestrian area and was accompanied by clowns and people in period costumes from earlier times.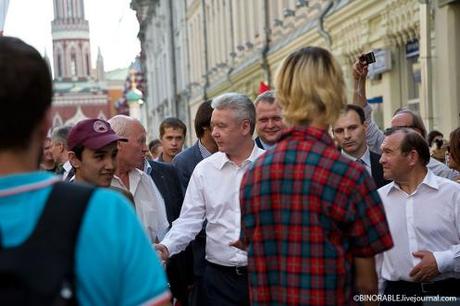 Mayor Sergei Sobyanin, centre, with the red Nikolai (Nicholas) tower behind him.
It is about 615 metres (673 yards) from Lubyanka to the Nikolai Tower and city workers laid over fourteen thousand square meters of modern granite paving, added 32 new outdoor lighting fixtures and 187 small architectural forms such as flower and tree pots , benches and signs.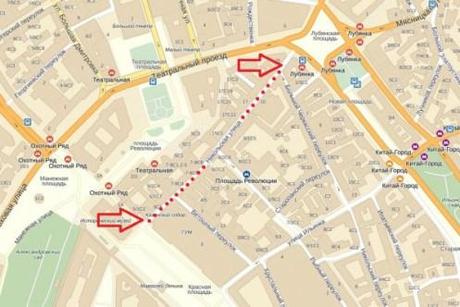 Summer is practically over as on many days the weather already calls for wearing jackets but come to Moscow and enjoy the new pedestrian conversion of historic Nikolai Street!