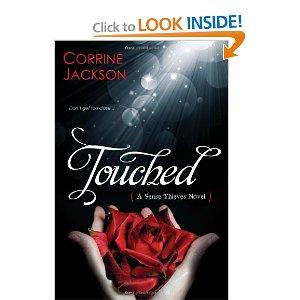 Book Description (Amazon):
Release Date:
November 27, 2012
| Series:
Sense Thieves
Remy O'Malley heals people with touch - but every injury she cures becomes her own. Living in a household with an abusive stepfather, she has healed untold numbers of broken bones, burns, and bruises. And then one night her stepfather goes too far. Being sent to live with her estranged father offers a clean start and she is eager to take it. Enter Asher Blackwell. Once a Protector of Healers, Asher sacrificed his senses to become immortal. Only by killing a Healer can a Protector recover their human senses. Falling in love is against the rules between these two enemies. Because Remy has the power to make Protectors human again, and when they find out, they'll be coming for her - if Asher doesn't kill her first.
Short excerpt:
"The light from the bonfire flickered over my burnt hand when I turned toward her voice.
   Asher's breath rushed out in an angry hiss, and I knew I was busted.
  I didn't hesitate to shoot through an opening in the trees and into Lucy's arms before his hand could close on my shoulder."
 This excerpt was taken from the first random page I flipped to. (PAGE 50)
Read my review
here
. 
PURCHASE
Touched at:
*
Amazon
*
Barnes & Noble
*
Better World Books