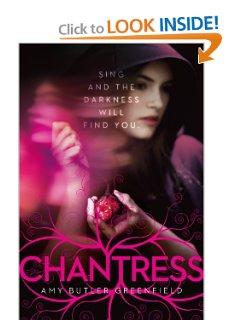 Book Description (Amazon)
Release date:
May 7, 2013
Lucy's Chantress magic will make her the most powerful—and most hunted—girl in England. "Sing, and the darkness will find you." This warning has haunted fifteen-year-old Lucy ever since she was eight and shipwrecked on a lonely island. Lucy's guardian, Norrie, has lots of rules, but the most important is that Lucy must never sing. Not ever. Now it is 1667, Lucy is fifteen, and on All Hallows' Eve, Lucy hears a tantalizing melody on the wind. She can't help but sing—and she is swept into darkness. When she awakes in England, Lucy hears powerful men discussing Chantresses—women who can sing magic into the world. They are hunting her, but she escapes and finds sanctuary with the Invisible College, an organization plotting to overthrow the nefarious Lord Protector. The only person powerful enough to bring about his downfall is a Chantress. And Lucy is the last one in England. Lucy struggles to master the song-spells and harness her power, but the Lord Protector is moving quickly. And her feelings for Nat, an Invisible College apprentice and scientist who deeply distrusts her magic, only add to her confusion… Time is running out, and the fate of England hangs in the balance in this entrancing novel that is atmospheric and lyrical, dangerous and romantic.
Show more
Show less
---
Buy it on Amazon
here
_______________________________________________
Review:
Source: e-ARC for review from publisher through Edelweiss.
For starters, I'll say that this book has very little romance. I like a little romance, and if a book doesn't have any...I'll pass. This book? It had a shadow of puppy love. You might like that, but I'd have liked more. I did enjoy and savor what I got though. :)
This was a quick, exciting read. The majority of the ending I could guess by just reading the blurb, but knowing how the book ends and being a part of the journey are two very different things.
I loved Nat, had a love-hate relationship with Lucy, and really didn't find myself loving the rest of the Invisible College. I didn't get any two-dimensional feelings from these characters, but that could have been because I was so distracted with Lucy's ignorance most of the time. I did end up caring if they lived or died, and I did understand Lucy.
I loved the setting. Loved. It.
For me, the book was enjoyable. While I've never said this before, I think it just rings true here: I feel like this would have been better in 3rd person P.O.V.. I mean, the story itself was amazing, and the world-building was perfect.. but I feel like this story would have been better without all of Lucy's idiotic thoughts. Or, at the very least, it could have been half Nat's P.O.V. and half Lucy's, but I guess it's whatever came to Ms.Greenfield, right?
And I really have been looking forward to a book about a Siren or Enchantress, and this didn't let me down. It just didn't BLOW MY MIND. I'm glad I read it, and I'll for sure pick up Ms.Greenfields' next book. I'd say give it a shot, but be ready for a teenager, as being a rebel and know-it-all just comes with the package. And that's coming from a teen, herself. ;)
Oh, and that cover just became a drug. My drug. *stares longingly*


Thanks for visiting us! If you like to read and review books, don't forget to sign up as a tour host for FanGirl Book Tours! Details on our blog under the "FanGirl Book Tours" tab. Oh, and the service is FREE! Any interested authors? (::