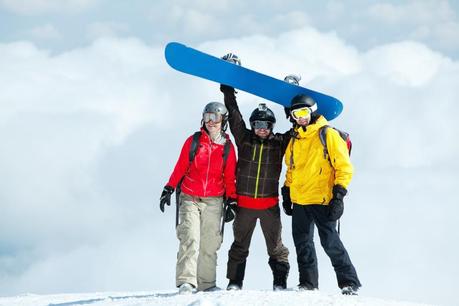 There are lots of things which make for a great skiing or snowboarding holiday and the snow and the piste are just two of them. A great atmosphere, food, people and après ski is also something which can make your holiday that extra bit special, France has something to offer all tastes as well as levels of expertise. Whether you are the complete novice, an advanced intermediate or at an expert level of competence on your skis or board, the many ski resorts in France in the Alps and Pyrenees have something which is suitable for all abilities. You can also find a host of suitable destinations which are good for the whole family as well as plenty of places to party for the young and single people as well. With a mixture of great snow conditions, hospitable local people, excellent food and beverages, you really cannot go wrong in choosing France as your preferred destination for your winter holiday.
Les Deux Alpes: A value for money destination
France has long been one of the most expensive destinations for winter sports, along with Switzerland. There are some resorts which are good value for money though and are suitable for the more budget minded tourists. Les Deux Alpes has long been a popular destination for the winter enthusiast. With having the Glacier du Mont de Lans at the 3570m summit, even in the mildest of winters you can still ski along the glacier and is the largest skiable glacier in Europe. There is around 220km of marked runs as well as a 2,300m vertical drop so there are some excellent facilities for the novice skier or boarder and for the more experienced people there are some fantastic off piste options available as well. With being a popular resort, during the high season, you can end up queuing for some time in the morning to take the lift up the mountain. Included in the price of your ski pass is also free entry to the swimming pool and ice rink as well as free access to Alpe d'Huez which can be reached easily by bus and offers even more ski runs. With a range of accommodation on offer from apartments, chalets, holiday homes and hotels, you will be able to find something which suits both your taste and budget quite easily. You may need to book early though to make sure you get a good deal on your chosen dates and avoid school holidays where possible, this is an excellent way to save some money.
Val d'Isère: To push your ability
If you are a more advanced skier and are looking to push your ability to the maximum, then you may wish to look at visiting Val d'Isère on your next winter holiday. The resort is located in the Southeast of France and is just 5km from the border with Italy. Val d'Isère regularly plays host to World Cup Alpine events so you know there are some demanding pistes here. There is also some very technical off piste available as well which will test the most advanced athletes. The elevation of the ski area goes from 1550m rising to 3456m and has in the region of 300km of marked piste on the 158 runs available. Val d'Isère also boasts not one but two glaciers which can be used by boarders and skiers alike and the Pissaillas glacier even offers skiing in the summer. There are also a Cross Park and a Snow Park which should keep the boarders happy and offer lots of banked curbs, plenty of grinding opportunities and also lots of jumps as well. Being such a popular resort you will find that some of the accommodation here can be rather expensive, although you could try staying over the border in Italy and buy your ski pass, you will have the burden of traveling each day but may be able to save a bit of money in the long run.
Courchevel: Party after the piste
If you need to have a great party atmosphere as well as great skiing then Courchevel is the place for you. Courchevel is located in the Tarentaise Valley and is part of Les Trois Vallées. There are about 150kn of Alpine runs on offer is Courchevel and these are serviced by 62 ski lifts. There is a varying degree of difficulty available so the resort offers good runs for all abilities. You can also ski the 3 valleys which is the largest interconnected ski area in the world. The 3 valleys offers over 600kms of marked runs and the longest run on offer is Cîme de Caron which is 5km. The range in elevation goes from 1300m up to 3230m and the entire area is serviced by 183 lifts and over 2000 snow cannons. There is also excellent off piste available here which will test the most experienced of skiers. After you have explored the slopes and you head out for some Apres Ski, you will find a whole host of bars, cafes, restaurants and clubs which offer excellent cuisine, dri8nks and atmosphere and also a vibe truly unique to the 3 Valleys. There is something on offer for everyone in this vibrant resort and the only danger is that you party too hard leaving you up late the next day and missing out on exploring all of those runs!
Summary
France has long been a favorite destination for those of us that like to go away in winter. With the range on over in this wonderful country you can easily find something to suit all tastes, budgets and experience levels. With plenty of marked runs on offer and also lots of off piste opportunities as well, whether you are at a beginner or an advanced level, there is plenty to keep everyone happy. With not only great conditions and runs on offer, you also have the atmosphere, nightlife and all of that wonderful food as well, choosing a resort in France will make sure you have a trip to remember.
This article was written by Ted Hunter on behalf of Travel Republic. Travel Republic offer excellent deals on winter ski holidays to France to all of the top destinations. They can also arrange ski pass, ski and boot hire as well as cater for snow boarders as well. Ted is an avid skier who has skied lots of resorts in Europe, North America and also New Zealand. He loves to share his experiences on his travels in the articles and blogs that he writes.