Ola girls,
How are you all doing and how is the winter treating you?I hear that the cold has been terrible in most parts of India and in the US too. It has been cold here too finally,the weather is not chilling cold but better than sweating in the summers. Coming back to the blogging business I shall be reviewing a Red lipstick from Excel - shade 29 of which I reviewed 2 lipsticks earlier.They are easily available here and I used to regularly use them at one point at work quite some time ago as I love the concept of these jumbo lipsticks/lip balms. Let us find out more about this shade in my review.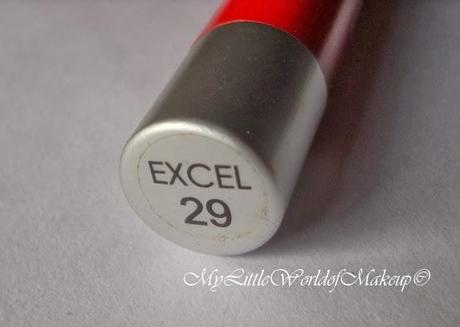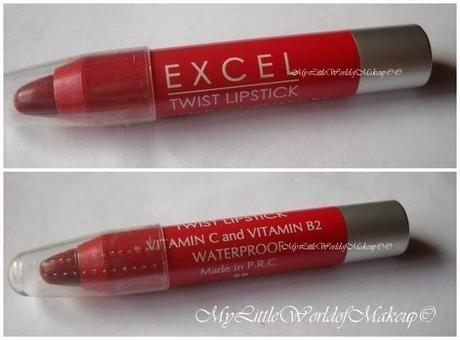 Ingredients: nothing mentioned.
Price: Rs. 120/- to 150/- 
Shelf life: mentioned.
Quantity: 2.8g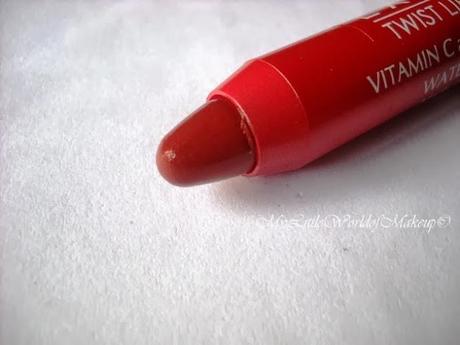 Availability: Check your local beauty stores they do stock products like these. In Mumbai they are available at many places like Beauty Shop, Kandivali and Alfa, Vile Parle.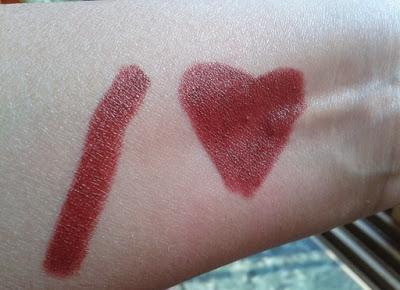 The lipstick is a jumbo lip pencil with a clear plastic cap/cover to it.The lipstick is a twist up one which I like which means so sharpening and no mess. It twists up and down easily. The shade of the body/packaging matches to that of the lipstick more or less hence it is easy to choose what shade you want to go for if you have a couple of them. The cap unfortunately cracks up over repeated uses. I would not call it travel friendly if the cap is loose. Overall nothing great about the packaging just about OK.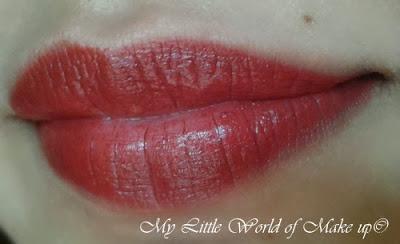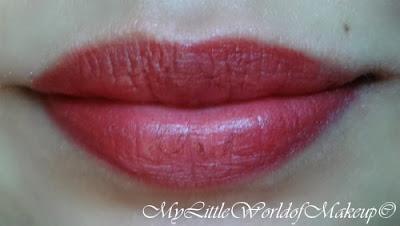 The lipstick is a deep dark vampy red lipstick which is not blue based. It is hard for me to define this shade. According to Wikipedia it may be a Dark Red. The lipstick glides on smoothly on the lips without any tugging or pulling. It is very creamy and does not contain any shimmer. It is very moisturizing on the lips however exfoliating and moisturizing is always necessary before you apply any  lipstick however moisturizing it may be. There is no smell or taste to the lipstick however some may be lightly floral scented. Due to its creamy nature it does easily transfer also it may go outside the lips. However I do not use a lip liner. The staying power is not that great considering that it is creamy but lasts long enough as it is a dark shade. Once it faints it leaves a reddish tint on the lips. It may not suit all skin tones, also it may not be everyone's favorite shade to sport as it is dark. Personally I love it and it suits me a lot.
The Good:
Deep dark color.
Opaque in one swipe itself.
Creamy and moisturizing.
The packaging almost matches the shade of the actual lipstick.
No shimmer.
The not so Good:Availability.Ingredient list missing.The cap is a problem as it may get loose or crack up on repeated use.The shade may not be everyone's cup of tea (in my opinion)Rating:4/5The lipstick is surely good for the price leaving the cons apart.Considering the Indian market where lipsticks are very expensive this one is really good for the price. I wish our Indian brands also do sell affordable versions of these (ok I am dreaming :p). I highly recommend this lipstick if you may find it.It is surely worth a try.I hope you liked this review and found it helpful. Please leave a comment below. I love reading them all.Happy Makar Sankranti and Happy Pongal girls... :)Until next time.. Buhh byeeeLove,