08/25/2011 – by Cynthia Wright
Ex-True Blood star Mehcad Brooks recently sat down with AfterElton to discuss his love of Rachel Maddow and why he appreciates all his gay fans.
Even though Brooks has acted for a while, he started gaining more steam for his well…steamy-soon-to-be-demonic love story that his character shared with Tara Thorton during the second season of True Blood. While Benedict "Eggs" Talley lasted only one season – his character was not so quickly forgotten.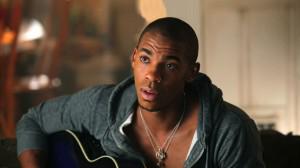 Mehcad Brooks as "Eggs"
Soon after, Brooks became one of the poster men for Calvin Klein's underwear, where the focus was not on his acting prowess but focused solely on what the actor was hiding (or barely hiding) in the iconic label's underwear campaign. With images like that, it is not surprising that Brooks has a strong gay following.
"'I appreciate' my gay following, Brooks told the gay website. I grew up with a gay uncle who I was very close to and my parents are very liberal and there was a time where … I think every young person questions what their sexuality is. And I did the same thing. I had questions in my head and I realized that I was straight and I thought, 'Well, why is this any different for anybody else?'

I'm a human rights activist and it doesn't make any sense not to treat everybody the exact same way. It just doesn't make any sense, it's counter intuitive, it's inhuman and it has to stop."
It also doesn't hurt that Brooks also calls himself a "Maddowphile" due to his overwhelming appreciation of the MSNBC host.
"She's a national treasure. I think that we need honest voices like that and we need journalism like that."
We also need more black entertainers willing to come out in support of the LGBT community. Kudos to Brooks for having the courage to do just that.
Mehcad is currently starring in Necessary Roughness on the USA Network.