Tattooed opera singer blasts American rockers in Der Spiegel.
by
Paul J. Pelkonen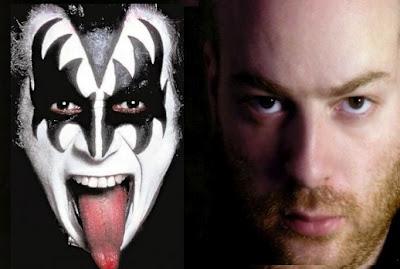 Bassist Gene Simmons (left) of American rockers Kiss and bass-baritone Evgeny Nikitin.
Yes, this is PhotoShop by the author. (Actually, it was done in OS X Preview, we're on a budget here.)
In the latest (and hopefully the last) round of the Summer Scandal that Refuses to Die, Russian bass-baritone Evgeny Nikitin has launched an attack against American rock band Kiss.
The singer, who lost his job earlier this summer singing the role of the Dutchman in the Bayreuth Festival's new production of Wagner's
Die Fliegende Höllander
left Bayreuth after questions emerged about a controversial tattoo on his chest that, in an earlier iteration, depicted a swastika.
The American rock band came up when Mr. Nikitin, who is scheduled to appear at the Metropolitan Opera next February as Klingsor in the company's new production of Wagner's
Parsifal
defended his actions and his skin decorations in an
interview with German newspaper Der Spiegel.
The interview was conducted by 
Spiegel 
journalists Benjamin Bidder and Joachim Kronsbein. An excerpt follows:
DER SPIEGEL: "Were you not aware that people in Germany would be sensitive to allusions to the Nazi era?"
Nikitin: "Look at the logo of the American band KISS. They have been doing business for 40 years with the emblem of the SS. Questions regarding National Socialist symbolism should please be directed to them first, and to me only afterwards. Compared to them I'm a choirboy."
Mr. Nikitin also stated that this is "the last interview" that he will give.
The Kiss logo was designed in 1973 by band guitarist Paul Daniel "Ace" Frehley. Mr. Frehley has stated in interviews and in his autobiography
No Regrets
that the logo was meant to represent "cool lightning bolts" and has no connection whatsoever with Hitler's Germany.
Two members of Kiss, bassist Gene Simmons (born Chaim Weitz) and guitarist Paul Stanley (born Stanley Harvey Eisen) are Jewish. Mr. Simmons' mother Flora Klein was in a concentration camp in World War II. Ms. Klein and her brother Larry were the only members of their family to survive the Holocaust.
The future rock star was born in Haifa, Israel in 1949. When Mr. Simmons was 8, the family emigrated to the United States, settling in Jackson Heights, Queens.
When Kiss were scheduled to tour Germany in 1980, the band altered their logo to reflect local sensitivity over the "double lightning bolt" symbol. Today, the band continues to "do business" in Germany without the "cool lightning bolts."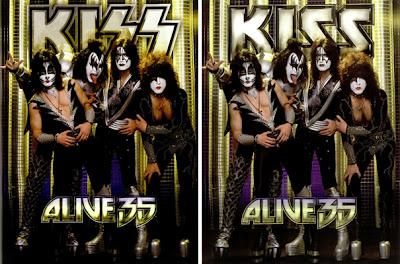 The current lineup of Kiss (Eric Singer, Gene Simmons, Tommy Thayer and Paul Stanley)
 poses with the altered logo in a publicity still for their 2008 world tour. Images © 2008 by KISS.