Everyuth Golden Glow Peel Off Mask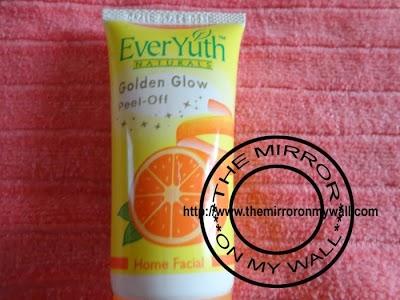 Everyuth Golden Glow Peel Off Mask
Everyuth peel off masks is available in market since many years now. First they had introduced orange peel off mask which was a hit. I had heard some girls were scared of trying it on their faces as the mask might pull their facial hair. They had never used it on their face and made an opinion on their own that using peel off masks will increase their facial hair or make them thicker by pulling them out.  And I was also the one who believed what they said and stayed away from peel off masks.
But 2 years back at my brothers wedding I got this and decided to use it on my face. By that time I was a frequent reader of some blogs and had read their reviews where most of them were satisfied with the results that it gave.
What's my Skin type:-
My facial skin is combination type, gets oily around my nose during summers and normal in winters.
What the Product claims:-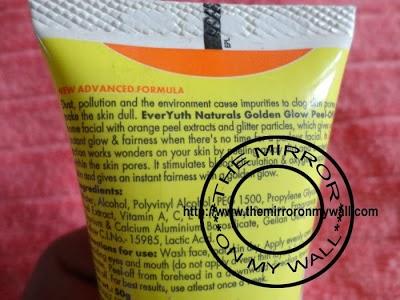 Everyuth Golden Glow Peel Off Mask
Dust, pollution and the environment cause impurities to clog skin pores and make the skin dull. EverYuth's Golden Glow Peel – Off is a home facial with orange peel extracts and glitter particles which gives you an instant glow and fairness when there's no time for a parlour facial. Its 3 way action works wonders on your skin by peeling away dirt and bacteria from within the skin pores. It stimulates blood circulation and oxygen supply to the skin and gives an instant fairness with a golden glow. (on the pack)
Ingredients:-
Water, Alcohol, Polyvinyl Alcohol,PEG 1500, Propylene Glycol, Orange peel extract, Vitamin A C E & F, Methyl Paraben, Fragrance, Mica & Titanium & Calcium Aluminum Borosilicate,  Gellan Gum,  Color Sunset Yellow C.I.No.15985, Lactic Acid.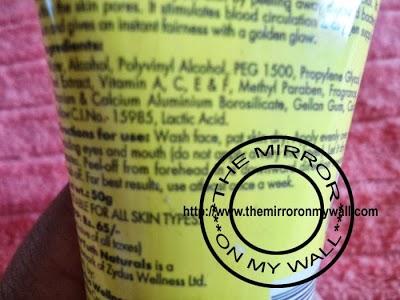 Everyuth Golden Glow Peel Off Mask
 Price:-
60 gm – INR75
100gm – INR115
Shelf Life:-
3 yrs from the Mfd.
Directions for use:-
Wash face, pat skin dry. Apply evenly over your face avoiding eyes and mouth ( do not apply a very thin layer ). Let it dry for 15 – 20 minutes. Peel off from forehead in a downward direction towards chin and wash off. For best results, use atleast once a week.
Packaging:–  The face comes in squeeze out tube packaging with flip cap.
Color and texture:- It is runny orange colored liquid with lots of golden glitters.
Fragrance :– Smell tangy like oranges but artificial.
My opinion on the product:-
The Mask comes in opaque yellow tube packaging with orange screw open cap. After opening the cap the artificial smell of oranges hits the nose But it soon disappears after application. I took some product in my left had and tried to apply on my face with my right hand. The mask is a little runny but sticky so you need to be a little cautious while applying it. Don't apply in either thick or thin layers as thick layer will take lot to time to get dry and thin layer will not come off from your face correctly.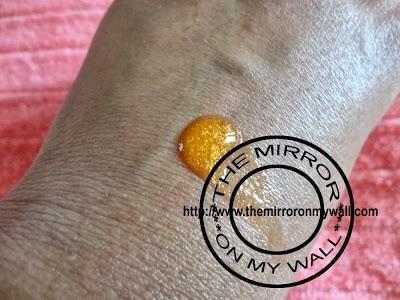 Everyuth Golden Glow Peel Off Mask
After applying it on your face, wait for few minutes approximately 10-15 minutes to let it dry. When it is dried your skin will tighten and you need to start peeling the mask from its sides. Take care while peeling off the mask, if you will try to pull the mask it might take your facial hair with itself. After peeling the mask rinse your face with water and pat dry.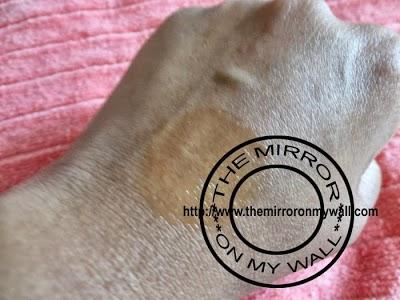 Everyuth Golden Glow Peel Off Mask Swatch
It left my face glowing as all the dirt, dead skin and oil was gone with the mask. It made my skin look healthier and the effect stayed for full day. I use it 2-3 times in a month or when needed. It really brings the golden glow on the face and lightens the skin.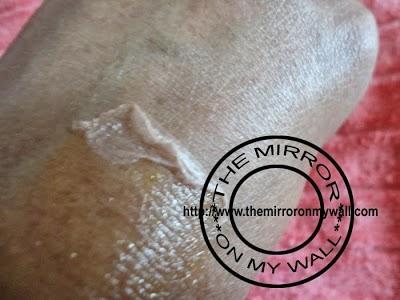 Everyuth Golden Glow Peel Off Mask
What I liked:-
Pocket friendly
Cleans skin very well
Makes skin glow
Travel friendly
Easy to use
No breakouts or any such effect on skin
What I didn't liked:-
Parabens
Fake gold glitters
Artificial smell might be a con for some
Will I repurchase and recommend:-
Yes, I liked it a lot and would recommend it too. I myself have been using it since last 2 years.
Rating:-
4/5