Here are all the essential bits of information you'll need for traveling to Novalja and Pag Island. Take a look at all the must-know bits and bobs, including everything from money to Mojitos, buses to bathing. It's all here!

Currency on Pag Island
Although Croatia is in Europe, it's not a part of the European Union so Kuna is used as currency instead of Euros. However, a little birdie told me that some taxi drivers and apartment owners will accept Euros as payment – I'm not sure which currency benefits the locals more but I stuck to using the main currency, Kunas.
There are ATM machines available on the main streets of Novalja center and outside the main supermarkets across the island but if you are staying further out, cash machines aren't around every corner.
Food in Novalja
Food and drink is very reasonably priced in Novalja and the island of Pag is famed for its incredible national lamb dish – and let's not forget the amazing fresh fish! With Italy as an Adriatic neighbour, there's a lot of Italian influence seen in Croatian cuisine, so pizza parlours are dotted around the center of Novalja. You'll find pizza pretty much everywhere you go and the prices are cheap and cheerful!
Now, I still haven't figured out whether this is a national prank designed for tourists, but I was told about an extraordinary cheese called Paški sir. Made from sheep's milk, the cheese has a very unique taste which results from the salted vegetation which the sheep graze on. The salt comes from the wind and the whole story sounded a little long-winded to be honest. I also struggled to find this cheese in any supermarket / restaurant whilst I was there but I've Googled for confirmation – it is indeed on Wikipedia so I don't think it's a joke!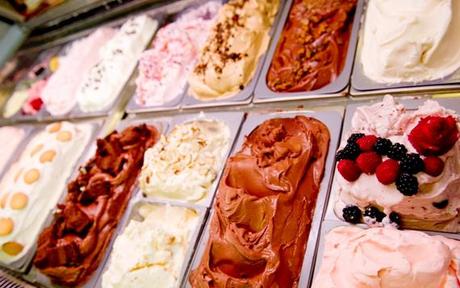 And don't forget to grab a scoop (or 2, or 3, or 4) of real Italian ice cream. You'll see ice cream vendors in the main square and the prices are so cheap, it would be rude not to come back for seconds.

Alcohol and Cigarettes
There are a few tabacco and alcohol shops around Novalja center and you can also find everything at the bigger supermarkets. The prices are much cheaper than the UK, and if you're a fan of thin European cigarettes (because they're more ladylike right?), you'll be able to get your hands on those – including the menthol ones.
Drinks served in bars / restaurants are the same, or less than back home in Britain. They are definitely cheaper than London and there's a great relaxed atmosphere in most of the watering holes.
Oooh – and I can't forget to tell you – I created my own heavenly drink mixing vodka with Schweppes Tangerine. I am so addicted to the tangerine flavoured soft drink that I am planning on getting some shipped over to me! Trust me, it's heaven in a bottle. I'm salivating as I type….
Transport on the Island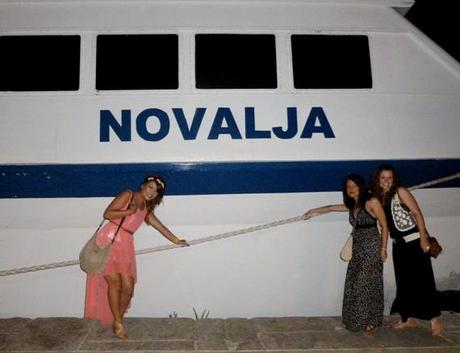 There's a regular bus service with several bus stops in and around Novalja, and there's a main bus station which offers transfers to airports such as Zadar or Zagreb. You'll also be able to find taxis at a few taxi ranks but it's better to take down a local taxi number and book them when you need to.
Most of Novalja is within walking distance and when the weather is warm and the moonlight is making pretty reflections in the sea, there's very little reason to jump in a taxi!
I also saw quite a few moped rental services if that's your thing? Probably not so safe when you've a had a couple of cocktails though.

Beaches in Novalja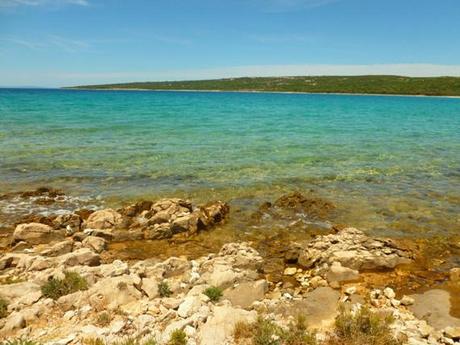 Pag Island is known to the locals as the Rocky Island. It's self explanatory really so if you're picky about your beaches, you'll have to do your research before you go. For instance, Zcre Beach is very pebbly and Trincel Beach has soft sand. (Read more about beaches on Pag here).
Shopping on the Island
The supermarkets have most things you would expect but if you are looking for fresh fruit, make sure you visit one of the local fruit stalls. The sight of the fruit vendor's colourful display is always a quenching sight when you've been in the sun all day! The watermelons are sweet and delicious, the nectarines and succulent and juicy, so make sure you stock up before you head back to your hotel / apartment.
For gifts, beach flip flops and souvenirs, you'll find a long row of shops and market stalls along the harbor. There's everything from your usual holiday tack to clothing and footwear. Or, if like me, you are in competition with the other half to buy the weirdest (shittest) holiday gifts ever (he's winning), you might like to invest in a nodding tortoise curved out of wood!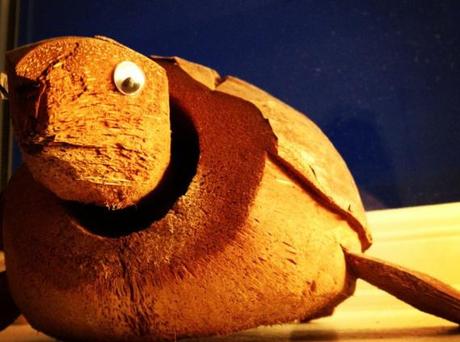 I hope you've found this useful. I am definitely no expert on the island but feel free to ask me any questions.