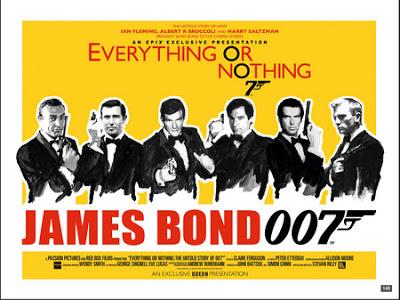 Bond, Jerry Bond. Yes! That's not a typo. There really was an American Bond in the very first film based on Ian Fleming's Casino Royale. This and a plethora of others facts come to light in the wonderful documentary
Everything or Nothing
that takes a look at the story behind one of the longest running movie franchises.
There is hardly any mention of Bond girls or the gadgets. Everything or Nothing doesn't look at the cultural revolution Bond has had over the years. It stays clear of everything that the audience has seen on screen. Instead it goes behind the scenes. Starting with Ian Fleming and how the character of James Bond came into light, to the problems the books and the films had from the very start, the documentary explores the key players behind the franchise and how they were responsible in shaping the films over the years.
Although the three prominent people responsible for James Bond, that is Albert Broccoli, Harry Saltzman, and obviously Ian Flemming, are no more, there is a certain authenticity brought about to the documentary through the various relatives who candidly speak about growing up amidst the trials, tribulations, and ultimate success of James Bond. From the origins of EON productions to the court cases that have haunted Bond, to eventually the drama that originated with the selection of each and every new Bond, Everything or Nothing is a delight for any cinephile wanting to know about the hardships that are endured in making a successful film, let alone 23 of them, and for a Bond fan, the documentary is just a treasure cove of facts, figures, and at times juicy gossip like information. 
The film especially tracks the various actors who have played Bond over the years. Although Sean Connery is unsurprisingly absent, others such as Timothy Dalton, Daniel Craig, Roger Moore, and even George Lazenby speak about the perks of being James Bond and the pressure the role brought about with it. The best moment though remains when Pierce Brosnan break out into a hysterical laughter reminiscing about the absurdity that was the "kite surfing tsunami" episode in Die Another Day.
Everything or Nothing tries to give the audience a difference perspective towards the Bond films. After so many decades, so many Bonds, and so many hindrances, the fact that Bond is now ready to make its 24th appearance is nothing but the power of passion, obsession, and sheer perseverance.
Rating: 5/5