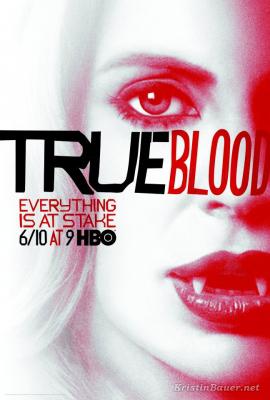 With June upon us the team at HBO are working hard dig us all us dead vamps in time for the premiere and they've just unveiled a hot new line of teaser posters featuring most of the cast including some we thought in limbo.

But they're keepin Tara's fate under wraps as they opted to not show any fangs or anything really, so now we're not too sure what they're doing with her now.. Fans were speculating left, right and Hotshot about Tara's fate and many seemed to feel as if Pam would be taking her under her wing so to speak and turning her.

But I guess we'll have to wait until June to find out and in the meantime ponder what else is "At Stake."

This entry was posted on Thursday, May 10th, 2012 at 1:14 pm and is filed under Gallery, Season 5, True Blood. You can follow any responses to this entry through the RSS 2.0 feed. You can leave a response, or trackback from your own site.
Leave a Reply
Name (required)
Mail (will not be published) (required)
Website