I'm sorry to admit it, but I can be a hangry person. If I don't plan ahead and find myself without a snack or meal in the near future, watch out! We all need little pick me-ups throughout the day, and probably know from experience that it's better if these bites are nutrient-dense and palate-pleasing. The pita chips may look good, but they won't satisfy you as well as, say, an apple with peanut butter.
When I have the time (rather, when I make the time) I like to bring homemade fruit-and-nut treats to work with me. They taste great, are small enough to eat inconspicuously (no one wants to see their server chowing down in a restaurant), and provide perfect little quick bursts of delicious energy. Here are some of my favorite recipes:
Orange-Scented Coconut Cashew Balls
Two-Bite Cherry Chocolate Balls
Chocolate Chip Cookie Dough "Laraballs"
I've added a new one to the list. Mixed with warming chai spices, these date rolls will tempt your taste buds and have you counting down the minutes to snack-time.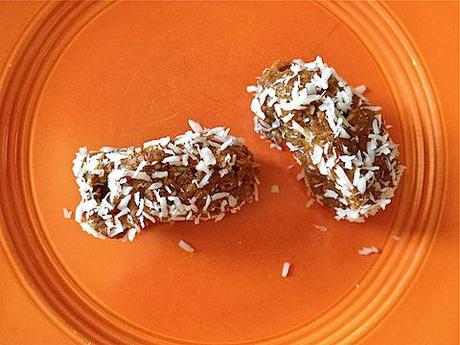 CHAI-SPICED DATE ROLLS
Makes 8-10 rolls
Ingredients
1/4 c. raw pecans
14 medjool dates, pits removed
1 t vanilla extract
1/4 t cinnamon, ground
1/8 t ginger, ground
1/8 t cardamom, ground
1/8 t cloves, ground
1/4 t salt
1/8 c. coconut, shredded
Combine all ingredients but coconut and pulse in a food processor until a sticky dough forms.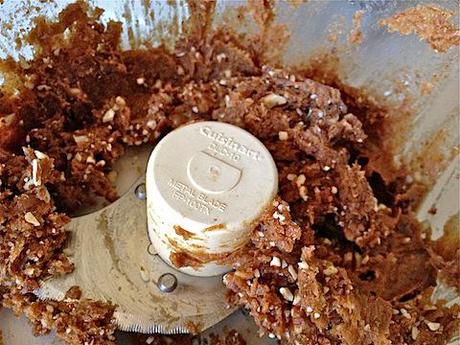 Chill your dough in the fridge for about 30 minutes.
Turn onto a piece of wax paper and form the dough into small logs. Roll each piece in shredded coconut to lightly coat.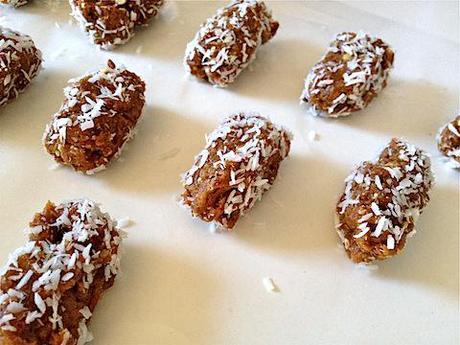 Savor slowly. All hail snack time! If the hanger has passed, share with your coworkers. Store in a cool, dry place.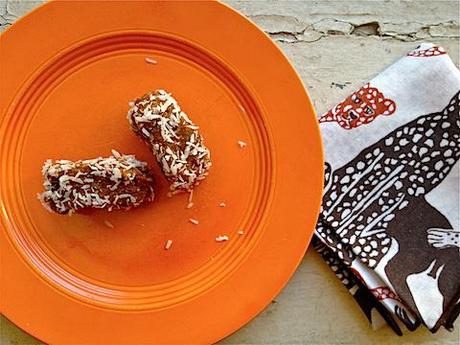 What are you snacking on today?