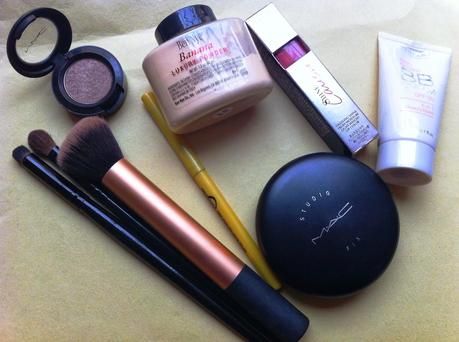 Hiya everyone! I just realized that there has been a spate of product reviews on the blog but I've not shared any makeup looks or tutorials for a really long time. Well, I'm gonna change all that and promise to mix things up here so that you don't get bored!
Read on to see what this look is all about!



Today I'm sharing with you a look that I've been wearing a lot recently specially during day time. All of us who work in corporate environments know that you can't really wear a lot of makeup and have to keep it subtle. I've never been one to follow all rules to the T so I do throw in a bold lip pretty regularly. But when it comes to the eyes, its light, muted neutral shades. I might wear a colored liner at times but its always paired with a light eye shadow usually in shades of brown or peach.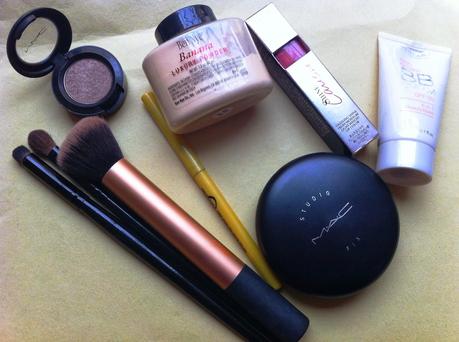 This look is actually a mix of subtle and glam and that's why I've been loving it. You can wear it to work, to a movie, for dinner basically anywhere and the best part is that you don't need a ton of products or a lot of time to do this. Below is a list of products that I use to create it but obviously you can change it up based on what you have.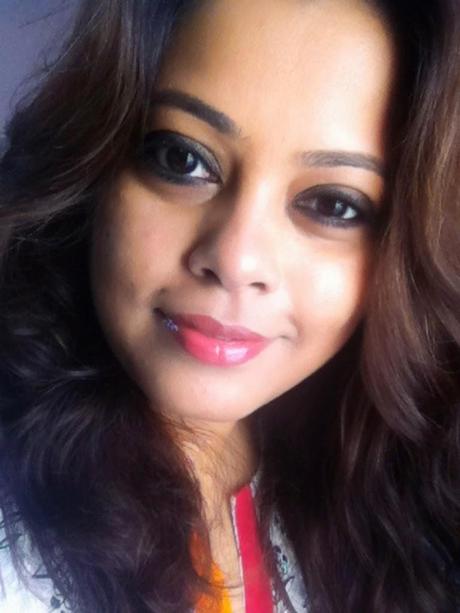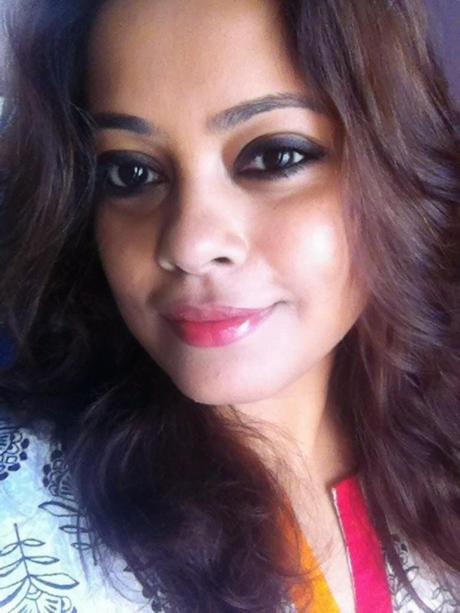 1. On the eyes I applied the Limited Edition MAC eyeshadow Divine Decadence only up to the crease with a fluffy brush. This is a lovely shimmery dark bronze but the shimmer is quite subtle on the lids. After applying the shadow, I lined my eyes with the Maybelline Colossal Kajal and smudged it to give a smokey effect. For this, I used a Coastal Scents brush. I blended out the edges to make sure there are no harsh lines and then applied a very thin line of the kajal very close to the lashline to add more depth. Used the same kajal to apply a slightly thick line on the lower lashline and smudged it with a Q tip. That's it..eyes done!


2. On my face, I applied the Oriflame BB cream as a base and then applied MAC Studio Fix Powder in the shade 43.5 with Real Technique's Buffing Brush.
3. I don't use concealer everyday but I love the highlighter like effect the Ben Nye Banana powder gives so gave a light dusting of this below my eyes and temples.
4. I've not used blush but that would be the next logical thing to do.
5. Finished off my makeup with L'Oreal Shine Caresse in the shade Bella, a perfect color to wear to work.
And that's really it. The focus of this look is the smudged light smokey eyes and you can definitely use any color you want to create it.
Do share in the comments below what you think of it and if you want me to post more of what I wear everyday or tutorials. Would love to read them.
Till next time..
Ciao :D