Well hello there you gorgeous bunch! That's a much better way to start things off isn't it – if you read my Everyday Base Products post you'd know what I'm on about… ahem ;)
I don't usually use a primer for my eyeballs – it's not that I don't want to, I just forget… first world problems. I just jump straight in there with eyeshadow, and for the last 2-3 weeks the palette I've been grabbing it the Makeup Revolution 'Flawless' palette… I know, shocker.
I've borrowed a picture from the Superdrug website as my palette is very well loved at this point… so it looks a bit gross.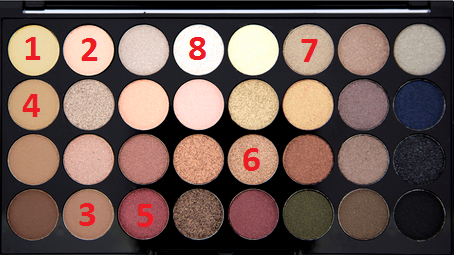 1 – Paper
2 – Soft Glow
3 – Raw
4 – Almost There
5 – Red Night
6 – Medal
7 – Unlimited
8 – Highlite
So, I dip a base shadow brush in shades 1 and 2 which just evens out the lid colouring, and I blend that all over the lid, usually up to the brow. Then I take a mixture of shades 3 and 4 on an angled shadow brush and blend that through my crease as a transition. Shade 5 goes into the outer corner of my eye, and blends into that transition shade that I've just put down. Shade 6 is blended from the center of the lid into the outer corner to meet up with shade 5, and then shades 7 and 8 are blended together and are popped from the middle of the eye to the inner corner. Eye shadow done!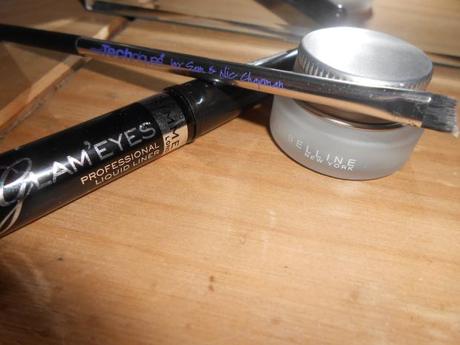 For eyeliner I use the Maybelline gel liner along my lash line with the Real Techniques angled liner brush but then I draw my flick in with Rimmel's Glam Eyes liquid liner… I find that if I use a liquid liner along my lash line it ends up cracking (it's fine for a flick), and the gel liner doesn't give me a sharp enough point, so they work pretty well when they're together!
I'd say it's a pain using two different eyeliners but it's really not, and it works for me so I can't grumble!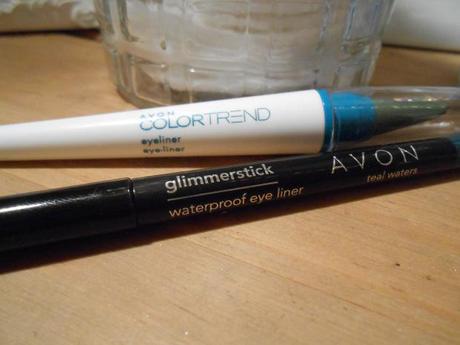 I used to leave under the eye bare but since I bought these two eyeliners from Avon I've used them religiously. I start with the glimmerstick in teal waters at the outer corner of the eye so it joins up with the flick and bring it just over half way along, and then blend it with the color trend eyeliner in hunter green into the corner of the eye… that makes sense right? And I know that it may seem like a weird combo when you think of the eyeshadows I used, but it actually looks lovely! Well I think so anyway – that's why I slao it on me ogglers.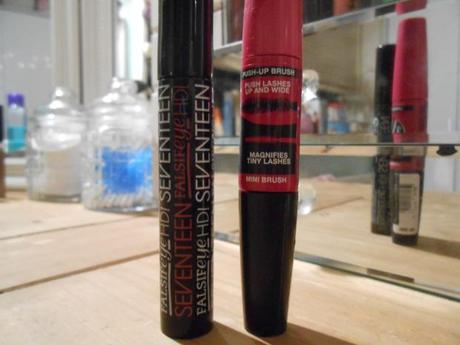 Oooooh that Seventeen HD mascara doe! I curlify my lashes and then apply about 3 coats of the Seventeen one, which you can read all about here.
;)
I really do love it. And then I use the tiny brush from Maybelline's Big Eyes mascara to apply a coat or two to my bottom lashes.
We're done! I've been using these products every day for about three weeks now and I can't fault them. This isn't a sponsored post, I'm just a sharer haha!
Do you use any of these products in your everyday makeup? Let me know in the comments!
About these ads