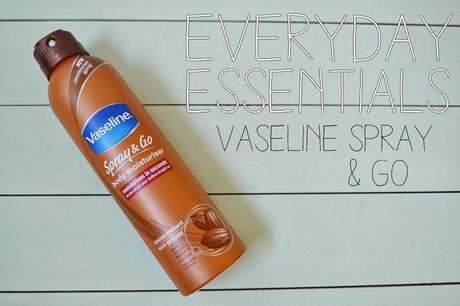 I know how important the moisturising step is in the ol' skincare routine, but when it comes to moisturising my body I tend to fall down a bit. It's the first task to go out of the window when I'm in any kind of rush (i.e. all the time).
I've seen this Vaseline Spray & Go moisturiser on a few blogs, and I've always been put off because it seemed a bit gimmicky. But then I got to thinking, maybe this will solve my moisturising woos. I really cannot be bothered to delve into a heavy duty jar of body butter and labouriously slather on thick cream, so this might just do the trick. And do the trick, it does.
I don't want to overstate, but this might be the best no-frills moisturiser out there. It is the perfect everyday moisturiser if you're a lazy one like me. You spray directly onto the area you want to moisturise, e.g. legs, and then rub it in. It's a thin spray, quite watery when you rub it in, although it doesn't run at all. Because of the consistency it spreads easily and absorbs quickly. The scent is no Lime, Basil and Mandarin, but it's not bad - just a generic cocoa scent to me. I tried out all three available "flavours" - it comes in Aloe Vera and Oat Extract (huh?) too, but settled for this. I would still have a "special" moisturiser like Jo Malone Body Crème (LBM, mentioned above) or Laura Mercier Crème Brulee Soufflé on hand for when I do feel like making the extra effort, but this is great for daily use.
All in all, it's not luxurious, but it is cheap (£4.99 from Boots), quick and easy to use, making Vaseline Spray & Go a great everyday moisturiser in my book.
xx