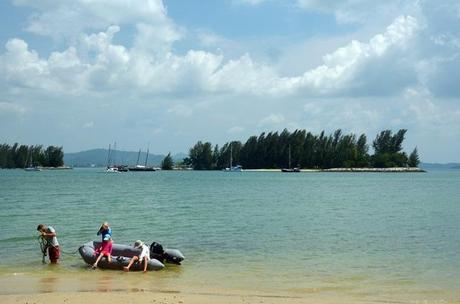 The resort was a great interlude, but we've settled back into "normal" cruising life in Malaysia, and a decidedly different groove. We're happily catching up on projects, books, and fun with friends in Telaga Harbour.
A nice breeze often comes through the bay, keeping the boat cool outside the hottest hours of the day. Hardly any bugs- thank goodness! I think we used more insect repellent in two weeks at Rebak than we've used in several years combined.
A couple of artificial islands protect the bay from the south. This time of year, prevailing winds switch to NE, and we're entirely protected by the big island of Langkawi.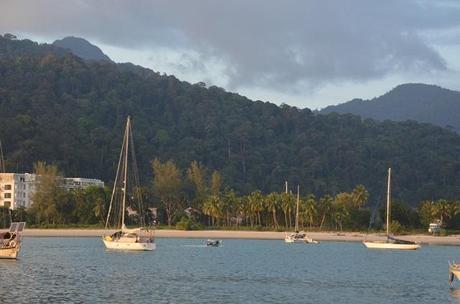 the view from the beach...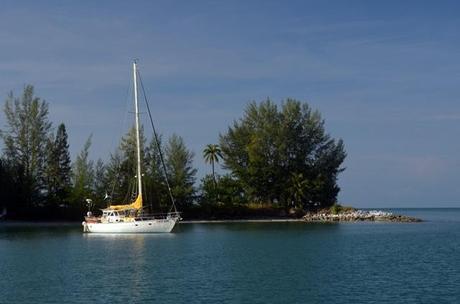 ...and looking at the islet, and Love Song. That's about half of the whole island in the frame.
Before the sun gets high enough to make life uncomfortable, I've been running with Kathy (Love Song) and other women from nearby boats. They know trails here, and we wind through tracks shared by monkeys, horses, and the occasional elephant. It's kicking my butt, which hasn't run much in a while, but feels great. What's better than a run where you see hornbills and monkeys? One where you see hornbills, monkeys, and get to talk to girlfriends!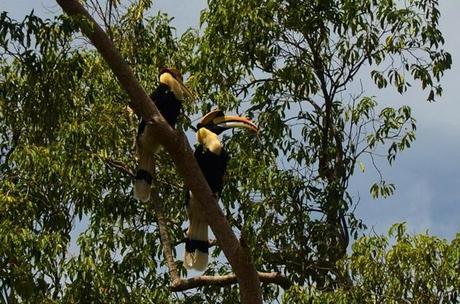 these birds are big and noisy: like they know they can get away with being flamboyant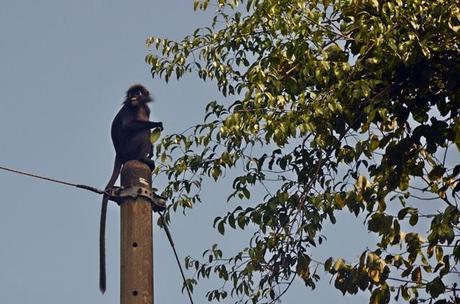 crazy flying leaps they take between trees...and utility poles
If there can be said to be a rhythm, it's this. Mornings are a time to catch up on books, projects, and life maintenance; afternoons are playtime. The kids like to hit the beach of the tiny islet we're anchored near with the boys from Love Song. They have easy access back and forth between the little islet, and the boats anchored close by. There are epic sand castle / village / ecosystems built, with hermit crab citizens and boat cat godzillas.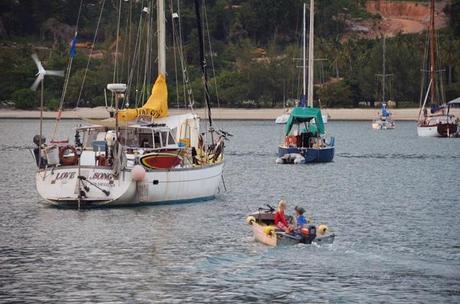 Morgan and Siobhan shuttle back to Love Song
On shore, there are trails to walk to a geopark, a series of waterfalls, and more. We spent the better part of a day walking to (and playing in) the waterfalls. Best natural slides ever.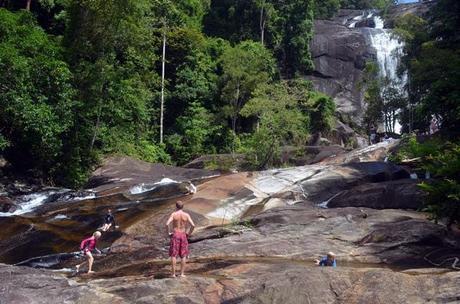 the lower pools, below the falls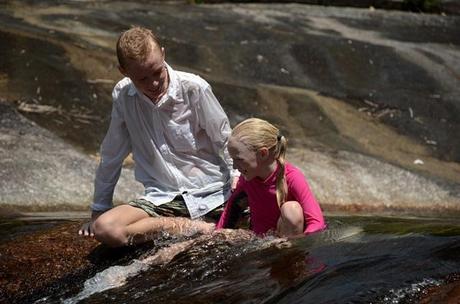 Niall is so good with helping his sisters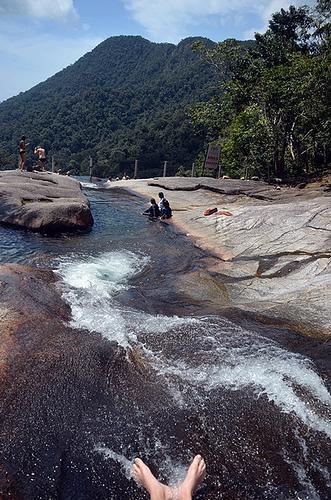 This run was a particular favorite. It plunged down slippery-smooth rocks into a pool of surprising depth. It terrified me to look down from above (those are Niall's feet!), because if you keep going past that bit of whitewater at the bottom, there's a short series of pools and then a VERY large drop. See the falls in the picture above? Yeah...you don't want to go over that.
There's minimal risk, ask it turns out, because that whitewater is a whirlpool that just spins you around.
We had a blast, running the slide over and over, but realized we're more used to being in the water than most people. Our comfort possibly made it look easier than it really is: at least, that's the best explanation I can come up with for some children with had little/no swimming ability (they had on water wings, people, water wings) were sent off to swim by parents who weren't paying much attention them. Our kids fished out one terrified child in water wings, and got a parent over to forcibly hauled another youngster out from the spin cycle. It's a scary, awful thing for a small child to have to experience.
Many evenings, we gather with their family and others to have dinner on the beach and watch the sinking sun turn the Langkawi to gold.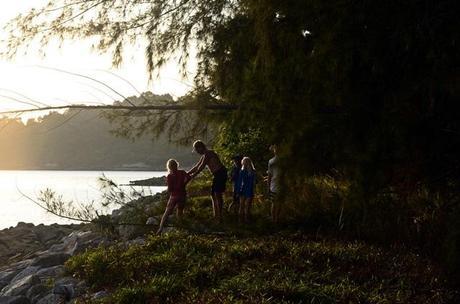 the kids scavenge driftwood for a fire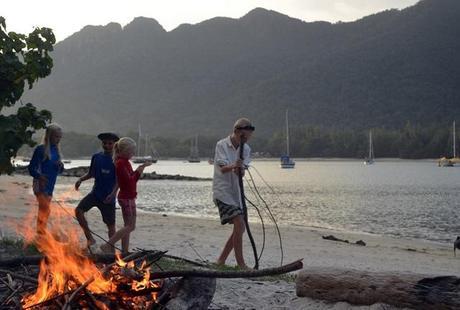 breaking up driftwood into fire-sized pieces
Talking story into the night around the glow of a fire has been like a balm for busy souls. What's adding an extra bit of fun is that for the first time in a very long time, most the boats we're spending time with are from North America. We can see five US ensigns around us in the anchorage: I think the last time that happened might have been back in Mexico, three and a half years ago.
We originally looked at Langkawi, and the 99 islands that make up the area, and thought- wow, we've got nearly a month to poke around and explore! But you know what? Sometimes the best thing, the very best thing, is not to explore every corner. It's to slow down, to get to know one place, and to just focus on spending time with friends and family instead.