Hello lovelies,
How is the weather treating you?? It has been pouring all over India and Mumbai is no exception - much relief from the humidity of Mumbai . I have so many reviews pending but this one had to be posted as I love this product already. If you remember I have reviewed Bareever and Everteen Intimate Wash on my blog before and have loved using them especially the intimate wash. These intimate wipes are an extension of the wash and I tell you a must have for every woman. Today I shall be telling you more about this product and my experience using it.. Read on to know more......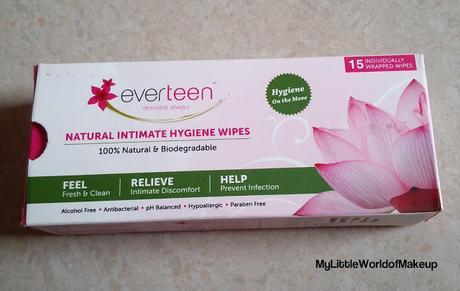 Price: Rs. 99/- for 15 individually wrapped wipes. Available online & in stores like Beauty CentreIngredients: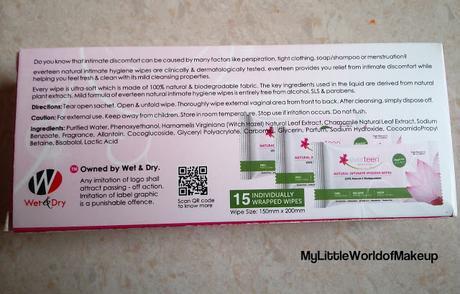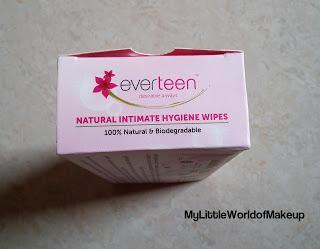 What does the brand say about the product:
Natural ingredients used in formulation

 Made from 100% natural & biodegradable fabric which is ultra soft

 Very mild fragrance

 Every wipe is Individually wrapped so you need not to carry the entire pack with you

Convenient

 Hygienic

 every wipe will stay moist till the time you open to use it. (Normally in case of pull pack, you will find the last two or three wipes dried up by the time you reach them)

 Extremely cost effective with a pack of 15 wipes only priced @99. One time use only cost Rs. 6.6/-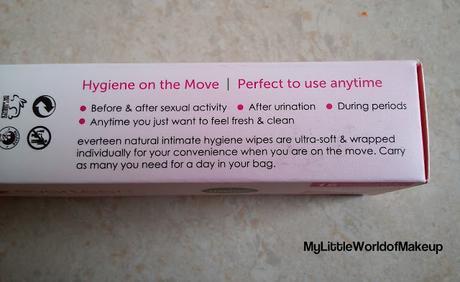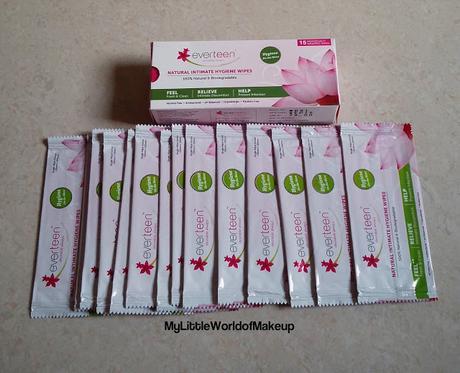 The wipes come in a cardboard box. Each box comes with 15 wipes each uniquely packed so that you can carry with it wherever you go. Also they won't dry out which is a plus point because if you know wet wipes do dry out easily but no chance with this one.Ingredients are mentioned on the box and on each wet wipe packaging which is really nice. It is perfect and travel friendly.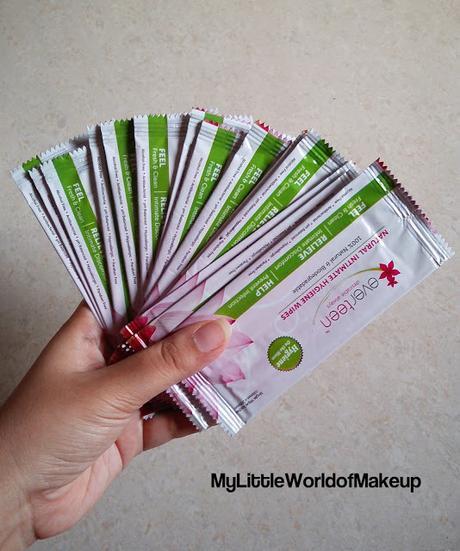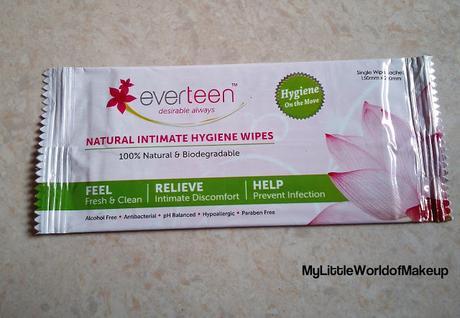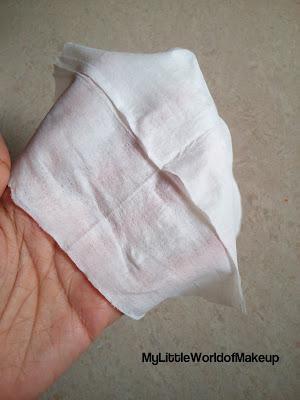 I am very particular about intimate hygiene. Using a tissue is a must each time I visit the washroom to relieve myself. I have had this problem in the past I cannot keep my intimate area wet as I tend to get rashes. Also keeping it odour free is a must for me. When I am at home it is not a problem but when I go  out I do have serious trouble. If you go to a mall you find clean and decent washrooms but what if it is a local washroom in some place they never have tissues which I absolutely hate hence I carry my own dry tissues. Dry tissues help me get rid of any moisture but of course there is no scent to it. That is when these wipes come in handy as they clean, refresh and removes odour if any.
The wipes are decently wet and by that I mean they are not very wet nor dry in between and smell floral just like their Intimate wash which I love and have been using. They do a good job of cleaning the intimate part and keeping it odour free for hours. They are safe to use as the ingredients list boasts of natural extracts and are paraben free. When you use it you do feel a little warm down there which lasts for 30 seconds but I did not experience any discomfort or anything of that sort. This is a life savior during that time of the month (periods) especially when you are traveling or at work. We know how much of a discomfort one can feel during those 5 days. They can be used by women of all ages young and old and I don't see a reason why you should not buy it. I think it is a wonderful and well thought product indeed.
The Good
:
Easily available online & stores like Beauty Centres
Inexpensive
Each wipe is in a seperately packed.
Can be used by women of all ages
Freshens up the intimate area
Smells refreshing
Hypoallergenic
Anti bacterial
Alcohol free
No chemicals or parabens
Travel friendly & user friendly
The not so Good:
Cannot think of any.
Rating: 4.5/5

Everteen Intimate Hygiene Wipes  is  a must have for every woman. It is perfect for woman on the go and even otherwise. We women spend so much on make up and clothes,  I think we need to stock up on intimate hygiene products like these as well. This is definitely an amazing concept and well thought product. What are you waiting for - Go get it ladies!!!!!!!! Thank me later ☺
I hope you found this review helpful and informative. Have you tried this product before?? Do comment below. Also leave your links here if you are visiting here for the first time.
Until next time.. Take care xoxo

P.S: Product was sent by the brand for consideration. My views are honest and based on my experience with the product