The biggest question yesterday was whether negotiators for Russia and China could reach a deal on the price of gas. We expected the price issue to be settled before Mr. Putin returned to Moscow but at the end of the day they had not yet come to terms. These two countries have inched closer over the past years but not without lingering memories of broken agreements by both sides in the past.
It wasn't that long ago when then-President Medvedev visited China by train, but as part of a visit to several Asian countries Mr. Putin's delegation arrived by air in Shanghai where Mr. Putin told Chinese journalists that "Russia firmly places China at the top of its foreign trade partners."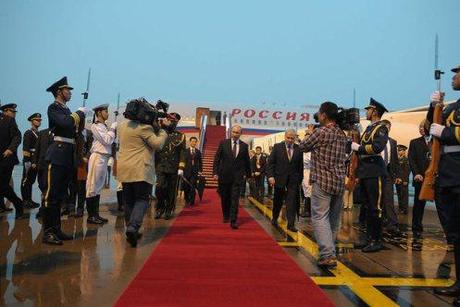 President Putin's arrival in Shanghai.
Russia and China have forged a close partnership over the past decade but this was Mr. Putin's first visit to China since President Xi Jinping took office.
The visit came as China hosted a summit of Asian states representing almost 40 countries including the leaders of Iran, Pakistan, Kazakhstan and Cambodia. President Putin met with several Asian leaders including President of Afghanistan Hamid Karzai during the summit.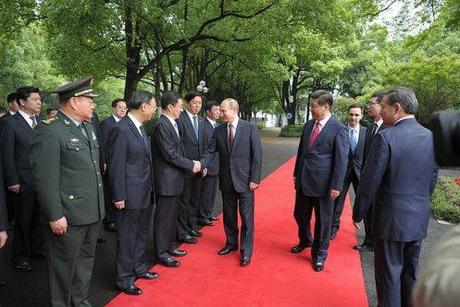 Russian and Chinese delegations were introduced during opening ceremonies.
During the meetings Mr. Putin said, "It would be no exaggeration if I said that the co-operation between our two countries is at its highest level in history."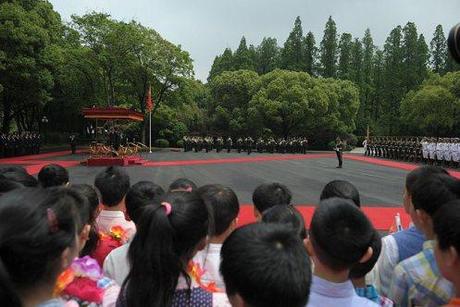 Ceremonies for President Putin's arrival in China.
Chinese President China Xi Jinping was expected to announce a gas deal between the two countries whereby Russia's state-owned Gazprom would supply China's National Petroleum Corporation with natural gas. The delegations worked on a plan that could last over the next 30 years.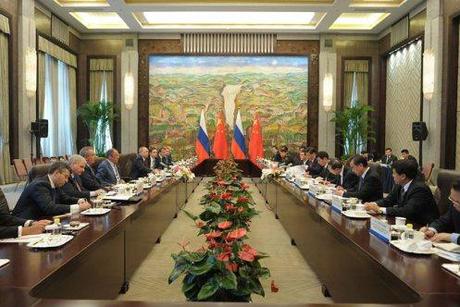 Chinese-Russian trade meetings were restricted to delegation members and staff only.
Although the two-day visit was filled with meetings for President Putin, a delegation of Russia's best energy experts accompanied the President for the trip to Shanghai.
The China trip also gave Mr. Putin the opportunity to sit down separately with with former President of China Jiang Zemin and with UN Secretary-General Ban Ki-moon.
At the outset of their meeting Secretary-General Ki-moon expressed his condolences on the train collision which injured at least 45 passengers and killed 6 persons at last report. The accident happened near Naro-Fominsk, southwest of Moscow when a freight train crashed into a passenger train. Mr. Putin has been in communication with Russia's Emergency Situations Ministry regarding the accident.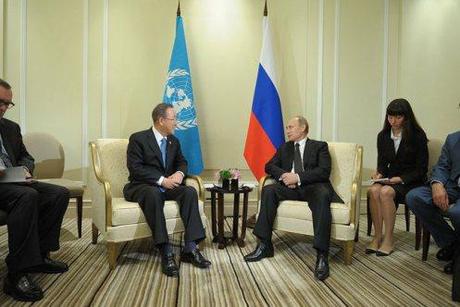 UN Secretary-General Ban Ki-moon and Russian President Vladimir Putin.
UN Secretary-General Ban Ki-moon attended the Asian security summit where at the conclusion Chinese President Xi is expected to make announcements on Asian security.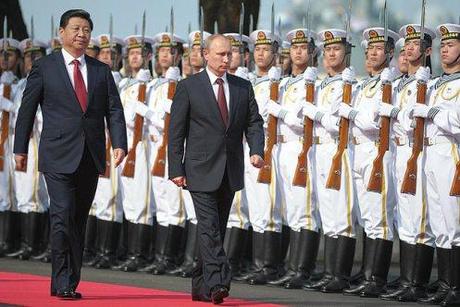 Presidents Xi Jinping and Putin inspect Chinese Naval forces.
The two countries are conducting joint Naval maneuvers and Russian forces began arriving in Shanghai on May 18 for the exercises scheduled from May 20-26 in the East China Sea.
The Russian Defense Ministry said that a total of 12 vessels are participating. The Russian Navy is represented by the Varyag missile cruiser, the Admiral Panteleyev large anti-submarine ship, the Bystry destroyer, the Admiral Nevelsky large amphibious ship, the Ilim mid-size sea tanker and Kalar sea tug. China is represented by three destroyers, two patrol ships and a comprehensive supply ship for the exercises. The Defense Ministry indicated that Su-30MK2 aircraft and Ka-27 helicopters will also be participate in drills to locate and identify targets, perform air defense operations and naval target practice.