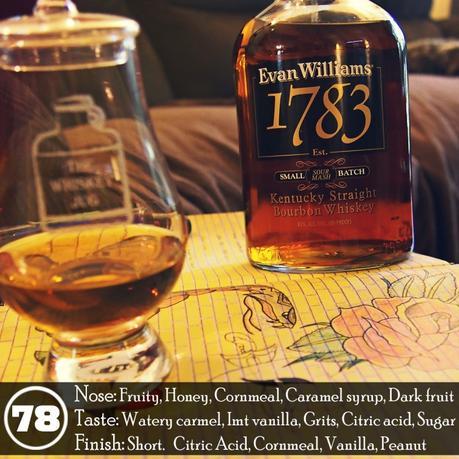 Evan Williams 1783 is Heaven Hill's "small batch" release that's meant to elevate itself above the regular Evan Williams Black Label. According to Heaven Hill's web site the "Evan Williams 1783 is a small batch extra aged line extension of Evan Williams Black Label that is named after the year in which Evan Williams first established his distillery". Take the origin story with a grain of salt.q
Evan Williams 1783 Info
Region: Kentucky, USA
Distiller: Heaven Hill
Mashbill: 75% corn, 13% rye, 12% barley
Cask: new charred oak
Age: NAS
ABV: 43%
Price: $15
Evan Williams 1783 Review
EYE
Leather
NOSE
Remarkably fruity with notes of honey, cornmeal, caramel syrup, dried dark fruit, artificial sweetener and peanuts. The peanut isn't incredibly strong, but definitely noticeable.
PALATE
Watery character with mild notes of caramel, imitation vanilla, grits, citric acid, sugar, peanut butter taffy, wood and mint. It's an odd tasting whiskey for sure.
FINISH
Short and layered with notes of citric acid, cornmeal, vanilla, peanut butter taffy and wood.
BALANCE, BODY & FEEL
Off balanced, weak thin body and a watery feel. Not a fan of the experience that accompanies the notes.
OVERALL
Evan Williams 1783 is a let down for me. Because it's the same whiskey it's easy to see the similarities between this, the Evan Williams Black Label and the Evan Williams Bonded, but I like the EWBL and Bonded more, much more. Tasting them all side-by-side they're both noticeably richer, tastier whiskeys – especially the bonded – with comparatively deeper characters.
The Evan Williams 1783 is too weak and peanutty for my tastes and with it being "extra aged" I would expect it to taste closer to the Evan Williams Single Barrel Vintages, but instead it comes across more like a water down version of the black label. It's possible I got an off batch of this "small batch" offering, but at the moment I'm thinking I'd rather save $3 and pick up the EWBL or spend $3 more and pick up the excellent EWB instead. Either one is a better value in my mind.
SCORE: 78/100