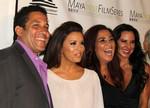 Image by Getty Images via @daylife
07/28/2011
Some will go see this movie to see how closely it fits James Cañón's novel, A Tale From the Town of Widows, others will flock to see the reemergence of Christian Slater (eerily, he still looks the same) and then there will be those that flock to see Eva Longoria dip her dainty foot, mouth, hand into all things lesbian. From all accounts, it appears that her dipping into the Sapphic pool doesn't take up much of the movie itself – even though, the movie company is enjoying playing up her tête-à-tête for the masses. Really, can you really blame them?
The story takes place in a small Colombian village where all the women are left hanging once the men are kidnapped by a guerilla army, outside of the local priest (played by The Office's Oscar Nunez). At first, the women aren't exactly sure what to do but are soon forced to come up with their own rules and regulations outside of the typical patriarchal society.
So, what do women do when they are feeling frisky with no men around? That's right, they turn to each other and Longoria and Kate del Castillo sure do make those scenes work!
Without Men opens Friday, July 29th.