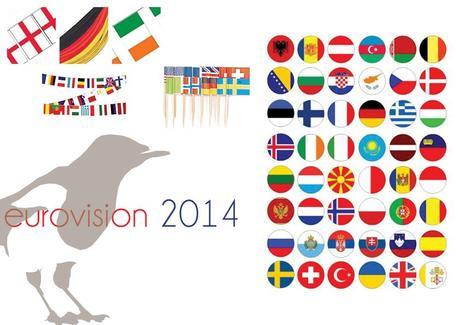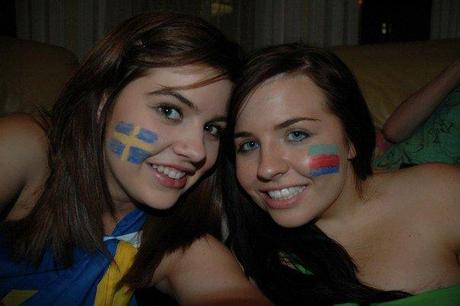 Watching the eurovision every single year with friends/ family has been in my calendar for as long as I can remember. When I went to university in 2008 I luckily found a girl with just as much of a love for it and we've been holding eurovision parties every year since. This year it's my turn to host for the first time in my little home and I'm so excited making little preparations I thought I'd share them here.
The Basics:
Firstly you need to know that the only way Eurovision works is to be as tacky as possible. Each person coming pays £2 to have a country at the end of the night the winner takes all. You need to dress in the flag/ flags colors of or national dress of your country. You also need to bring a food/ drink item from that country for everyone to enjoy. We have face paints to further add to the festivities. We play our own drinking game but if you're looking for rule idea's - this site is pretty good. I've created a small Facebook event for people to watch the songs and pick their countries in advance - it's also a good way to get the eurovision fun going for the eurovision sceptics amongst your friends.
Decorations:
You need all the bunting to really get your home in a eurovision mood. Party packs have all the flags in their collection for a reasonable price. My favorite is this mixed european flag bunting perfect for showing off everyone's choices. You can pick up rice paper fairy cake toppers from eBay which make a great centrepiece to a buffet - I picked these up for just £3.50.  Flag topped cocktail sticks are also a great way of showing the origins of the food you've prepared you can buy them but I'd recommend just printing lots off and making your own with cocktail sticks. I've ordered a 5x3ft Hungarian flag as they are my country of choice this year and also a large mixed european flag for decoration both from eBay. The best bit really though is making everything yourself. I'm going to print lots of flags to make my own bunting and food flags
Dates: 
Semi Final One - Tuesday 6th May BBC 3
Semi Final Two - Thursday 8th May BBC 3
Final & Party Night - Saturday 10th May BBC1 8pm
Score Cards: 
The BBC will have their scorecard up after the second semi final to download and print off here. The radio times also do one each year. We like to make one from scratch with our own criteria and do scores /10 for costume, sex appeal, song, staging & dancers. Then you have an overall score /50 for each act.
Only a week to go! If you're having a party and making plans please tweet me @georginacallen I need more #eurovision2014 tweets on my feed!