European style bathrooms elicit a certain character that is simple and unadulterated. They combine characteristics from diverse eras and adapt to the cultural influences that shape design. Neutral color palettes and natural elements invigorate these small spaces with a freshness that is like a breath of fresh air.
Traveling to another country always introduces tourists to some level of culture shock. The layouts, style, colors, and fixtures in Europe are all unique to this region of the world. Even better, the bidet is a special treat that is sure to surprise.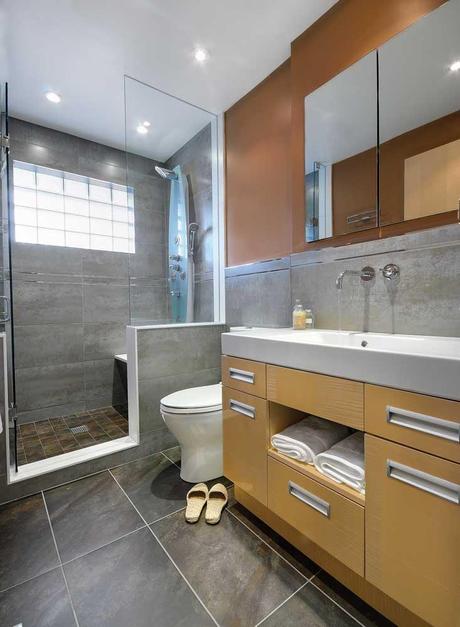 Image via ibaths.
European Bathroom Design
Bathrooms in Europe are smaller than in America. The typical European bathroom is long and narrow, contrasting that of the large Master Suite's seen in the States. In European culture, bigger is not always better. Euro Bathroom designs are meant to provide an unobstructed experience that has everything you need without nothing that is unnecessary.
Euro-inspired bathrooms feature bright airy spaces that are filled with wall-mounted vanities that are often referred to as "floating vanities" due to the illusion that they create when mounted. This style might fall into the transitional category as it pulls from many design movements and blends the old with the new. For this reason, some may think that European design is a bit eclectic.
As for decor, a range of naturally occurring materials are used to highlight focal points of the room while serving functional purposes. Natural wood, wrought, iron, and stone can be seen in European bathroom designs. It can sway between modern and more traditional concepts.
While Europeans are accustomed to bidets, Americans have struggled with adopting this foreign concept. "Whoa" might be your first reaction. Bidets are standard in homes but not usually available in public restrooms. They do not flush. Instead they are used for hygienic purposes and are used in lieu of toilet paper. You can rinse and wash your bottom and occasionally people use it to wash their feet.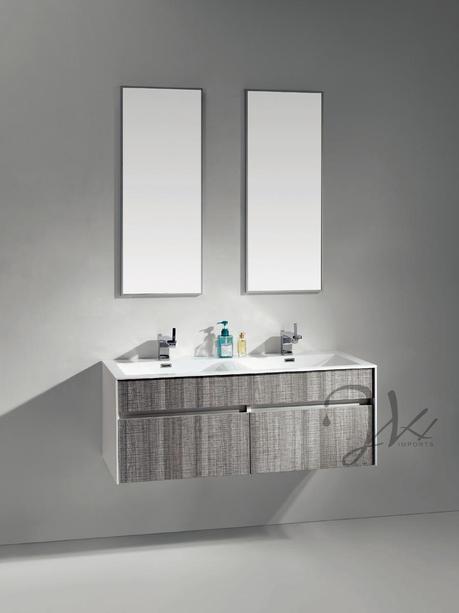 The gray ash facade on the Flen Bathroom Vanity is inspired by European Bathroom Design. Product Details.
Fixtures
In order to accommodate limited dimensions, bathtubs, toilets, and vanities are all made to enhance the ergonomics of the room. Clutter and heavily decorated walls will not be found in European designs. All decisions are made to add to the openness and simplicity of the design. Pedestal sinks are ideal for this reason. Nothing fancy just functional.
Bathtubs are raised off the floor and showers use hand held nozzles that can be hung on the wall when not in use. These types of shower nozzles have been seen in the United States where they provide an added convenience. Clawfoot tubs and spotless porcelain sinks are a staple in modern European bathroom design. One thing that may be discouraging to find out is that bathrooms in Europe do not always have hot water. In fact, you have to turn it on before you hop in the shower.
Euro-designs use creativity in other areas. While American bathtubs and toilets are standard and bland, European fixtures are much more stylish. You can find exotic shapes and styles that are fun and exciting. Check out these cool toilets! Similar to the way that furniture style vanities are becoming increasingly popular, European bathroom put more thought into everyday items.
A European bidet pictured on the right of a toilet. Image via Vagabondish.
Colors and Materials
Throughout Europe, you'll notice that the look and the feel of the bathroom is unpretentious and relaxing. The perfect place to unwind after a long day. European designers employ natural palettes that complement the use of stone and wood accents. This gives the room a reserved appearance that is not flashy or gaudy. White, cream, brown, and grays are popular in European bathrooms.
While it's almost taboo to use different shades of the same colors, European designers embrace monochromatic palettes that show you many different ways to view the same color. This can create a surreal feeling that is appealing in a unique way.
European bathrooms incorporate glass into many areas of the design. Glass helps make small spaces feel bigger, maximizing the area that you have to work with. Everything in the room is made to accommodate the dimensions. Raised cabinets and glass enclosures prevent fixtures from making the room feel enclosed. Glass tops and vessel sinks are popular in many Euro-designs.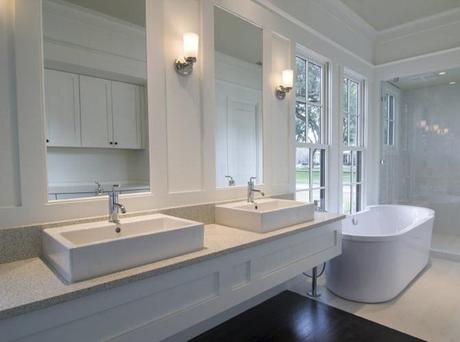 Image via pols.
About this Post
Cheryl Khan is an interior designer and freelance writer who finds solitude in the bathroom. She believes in the minimalist style of European bathrooms and enjoys entertaining the idea of a open-space design.