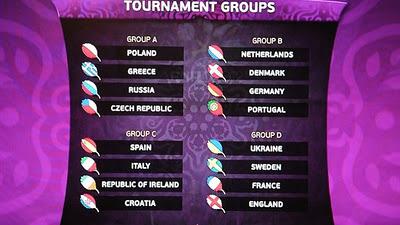 The 2012 EURO's are slowly approaching, and just yesterday the groups for the initial stages of the tournament were drawn. Below are the resulting groups of the draw:
Group A
Poland, Greece, Russia, Czech Republic
Group B
Netherlands, Denmark, Germany, Portugal
Group C
Spain, Italy, Republic of Ireland, Croatia
Group D
Ukraine, Sweden, France, England
As for just about every international tournament, a group of death naturally formed. For the 2012 EURO's it seems that Group B will be the toughest of them all. 2010 World Cup finalists Netherlands along with Germany, Portugal, and Denmark will all make for a group which will definitely provide plenty of action. We also see the holders of the tournament, Spain, with a fairly difficult group in Group C. Croatia and the Republic of Ireland aren't to be taken lightly, and Italy's resurgence could threaten Spain's dominance.
Which of the following groups are you looking forward to the most? What are your predictions for the 2012 EUROs?  Share your thoughts and comments below!