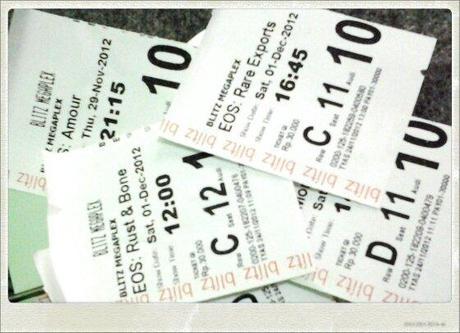 Explaining my Europe On Screen experience, means to flashback to two years ago. I was on my third year blogging about movies and reviewing them. I was hungry on watching good quality films and I was ready to watch all of them. There aren't many movie festivals in the city, even until now, that showed great foreign films. But then Europe On Screen arrived (back then it was held in November) and I was getting the euphoria bug. The crazy thing was the festival showed some Oscar nominated films (In A Better World, Rust and Bone, Amour) that was guaranteed won't show in regular cinemas.
I really didn't want to miss it. So I booked the tickets a week before, made sure I have a loyal friend that will accompany me, and took a chance to watch Michael Haneke's Amour that was showed a little later that my usual watching time. My office was a bit far from the cinema building (Grand Indonesia) and my friend who drove the car had to face almost 2 hour traffic jam. I was lucky that my friend is the easy-going type and she's fond of movies too. Still I wondered if I have gone too far just for the sake of seeing good movies.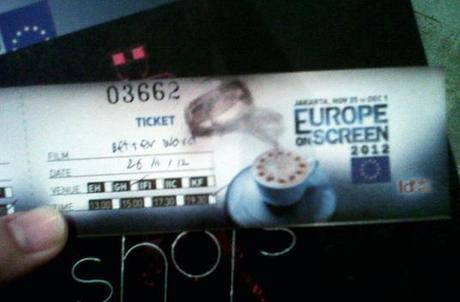 Then we arrived, have a bite to eat and entered the area of cinema. But it wasn't like any other show. It was filled with movie industry people, the types who appreciate and have deep knowledge of movies. I realized that the crowd was smarter and different, and I was part of them. And it was nice and have its own prestige, in a way.
Amour wasn't the soothing and feel-good movie types. In fact, it challenged me to keep sitting there until the movie ends. But that's when I was introduced to Michael Haneke's style and understood its charm. I also saw Rust and Bone (Cotillard impressed me), and even received a bonus ticket from Europe on Screen since I posted a couple of reviews from the festival. But I was very satisfied, though I didn't see much films that year. It seems that I have watched the right ones. Both movies ended up in my top 10 favorite movies in 2012.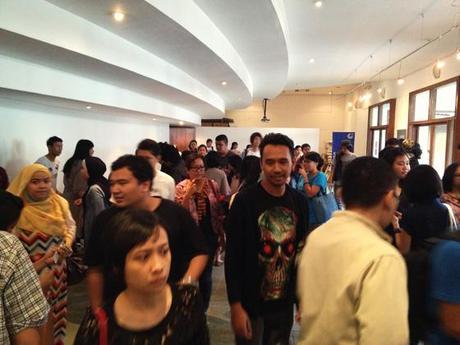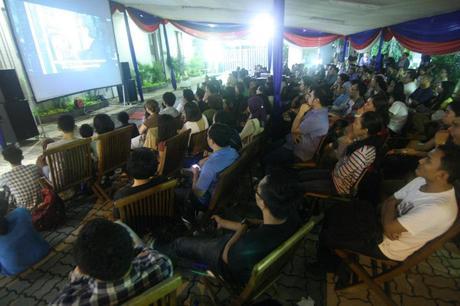 What amazed me is that the crowd was pretty much like me, the moviegoers and the experience seekers. I remember that one day that was a national day and the queue went very long in Erasmus Huis. I think the city is just dying to see other kinds of films.
So I'd like to thank Europe on Screen for giving me my first film festival experience. I don't have a flexible hours like a couple of years ago, but when the festival starts I know it's a waste to not take time to see it. I know some films that was screened can be searched and see in DVD, but it's different when you see it in the bigger screen and with people who can appreciate. These foreign films actually connect me with my other blogger friends in Europe. They saw my watch list and review, they recommend me ones they think is great, they know the local actresses and actors that I didn't know before and others even curious to see the movies.
This year, I got invited for the bloggers gathering and pre-screening for Searching For Sugarman. They also e-mail me the festival schedule and press release. Too bad that day my hubby was sick, I was excited to be there. Perhaps this year I'll got lucky and attend the opening night? I guess we'll see

(These post is a submission for the blog contest #EosXperience, held by Flick Magazine and Europe on Screen)