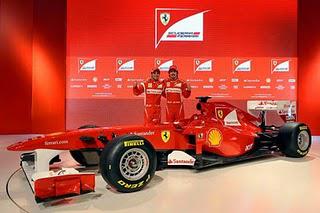 Felipe Massa and  Fernando Alonso
with the  Ferrari 150° Italia
Winter tests have come to a conclusion on 12 March at the Circuit de Catalunya near Barcelona. While the final winter tests were originally planned to take place in Bahrain, they had to be relocated to Barcelona due to political issues which also led to the cancellation of the Grand Prix of Bachrain. It turns out that eventually all winter tests took place in Spain: Valencia on 1-3 February, Jerez on 10-13 February, Barcelona on 18-21 February and Barcelona again on 8-12 March.
At the tests in February Robert Kubica in his Lotus Renault, Rubens Barrichello with Williams and Felipe Massa with Ferrari were fastest in Valencia, Jerez and Barcelona's first test session respectively. Until the final tests on 8-12 March all teams kept improving their cars and consequently it is the last tests in Barcelona therefore which have the most significance.
What the tests in February already showed, though, was the consistency of Ferrari, who throughout the altogether 15 testing days had close to none reliability issues and with their almost 7000 test kilometres were thus able to complete the most of all teams. As you can see in the table below, Red Bull was able to complete 6129 kilometres or 88 percent of Ferrari's whereas McLaren only completed 4719 kilometres or 68 percent.
Test Kilometres throughout Winter Tests in 2011
Pos.TeamKilometresMilesPercent
1Ferrari69754335100
2Red Bull6129380988
3Sauber5914367685
4Mercedes5778359183
5Force India5435337878
6Toro Rosso5352332677
7Lotus Renault5031312772
8Williams4985309871
9McLaren4719293368
10Virgin4585285066
11Team Lotus4084253859
12Hispania1949121128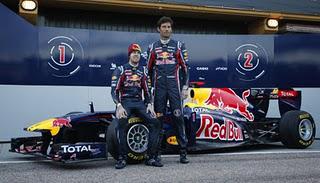 Sebastian Vettel an Mark Webber have high title hopes
with their new Red Bull RB7
Coincidence or not, the two teams leading the test kilometres standings are also the most likely to compete right at the front at the beginning of the 2011 season: Red Bull and Ferrari were the dominating teams throughout 2010 and they seem to be in the same position for 2011.
But nothing is granted, testing and racing are two very different animals, not least because the testing results are to be regarded cautiously. Teams do not reveal the cars' fuel levels, which of the different types of tyres they were using to set their fastest laps on, whether the tyres were new, whether they were using the KERS system and whether they adjusted the angle of the rear wing throughout their fastest lap. Therefore the fastest lap of Michael Schumacher, who was first in the overall standings of the final test in Barcelona, and also the one by Sergio Perez have to be put into perspective.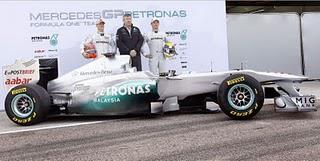 Michael Schumacher is confident to improve in 2011
with the Mercedes MGP W02.
Rosberg aims to win his first GP in Formula 1.
Another recurring situation in testing is that some teams in this pre-season stage are still looking for sponsors. In order to impress their potential investors they might consider doing their fastest lap not only in qualifying trim but even with their car's specifications altered beyond regulations, therefore the car will never show up at any race weekend with the same or similar settings. Thus the time set has no relevance whatsoever in terms of real speed and competitiveness of the car. The said clearly applies more to private teams than the likes of Ferrari, Red Bull, McLaren or Mercedes.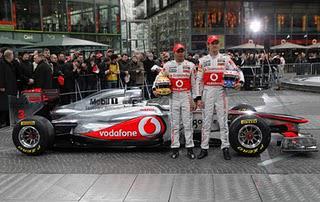 Lewis Hamilton and Jenson Button at the
McLaren MP4-26' presentation in Berlin
But even though Mercedes, having set the fastest time overall at the last test in Barcelona, still might have pushed the car very far in terms of the car's specifications, they are definitively to be considered at least the third force behind Red Bull and Ferrari, even more since McLaren seems to be out of shape for at least the start of the season. The first race in Melbourne is going to reveal whether Mercedes will be able to bother the big two teams.
As already mentioned, McLaren seem to lack performance at this early stage. But it is far too soon to write them off, first of all, they still might improve for the season opener and, second of all, if there is one team which can improve their car from being seconds off the pace at the beginning of a season to becoming a winning car later on, it is McLaren, as they have proven before.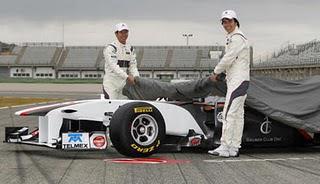 Kamui Kobayashi and Sergio Perez revealing their 2011 Sauber
Similar to Red Bull, Ferrari and Mercedes, also Williams and Sauber set impressively fast lap times throughout testing. To what extent those lap times were just straw fires to impress the aforementioned sponsors remains to be seen. In any case, it is unlikely that Williams and Sauber will be able to be at eye level with the top teams. They still might be in for a good share of the points, though.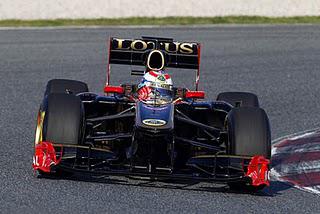 Lotus Renault - up front also without Robert Kubica?
It is rather difficult to estimate Lotus Renault's and Force India's competitiveness. Renault lost their lead driver Robert Kubica and at present it seems highly unlikely that he will return before the end of the season. This loss might prove to be fatal to Lotus Renault for their ambitions to compete right at the front. As far as Force India is concerned, their car was probably the quickest on low downforce tracks like Spa and Monza in 2009, but since then Force India have not been able to improve to keep up with the top teams. With di Resta they have a highly rated new driver, though.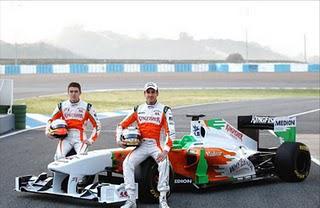 Paul di Resta and Adrian Sutil with their Force India
Toro Rosso showed impressive speed throughout the winter tests. They obviously have gained massively from their close relationship with Red Bull. How much Toro Rosso will be able to exploit their opportunities will to a great extend depend on their drivers Sebastien Buemi and Jaime Alguersuari.
Team Lotus and Virgin will merely have to keep closing the gap to the midfield, a task they definitely will have to achieve in the course of 2011 if their 2010 Formula 1 entry shall be labelled successful eventually.
As to Hispania, their 1949 test kilometres were still driven in the 2010 car. This means that their 2011 car has not been tested on track at all. There is no getting around this: it is disastrous that a team competing in Formula 1 starts the first race without having tested their car on track, not even considering that this happens for the second time in a row. Hispania appears not to be ready yet to compete in what is supposed to be the highest formula of racing.
Related Articles
Rain on Final Day of Testing in Barcelona
Schumacher Fastest - Pre-Season Testing in Barcelona, Day Four 
Sauber Fastest - Pre-Season Testing in Barcelona, Day Three  
Vettel Fastest - Pre-Season Testing in Barcelona, Day Two
Webber Fastest - Pre-Season Testing in Barcelona, Day One
Last Pre-Season Testing for 2011 Underway
You can have a look at the archive for a list of all articles.