Essentials Eye Palette – Clarins move from day to night, 10 mineral eye shadows to create eye-catching looks this holiday season–and all year long!
Beige, taupe, and brown tones create a harmony of beautiful shades in matte, satin and pearl finishes with an ultra-soft texture.
Includes a mirror and double-ended brush made of birch wood from sustainable forests, recycled aluminum and cruetly-free natural pony hair
93% of the raw materials used in the mineral and plant-based formulas are of natural origin. The materials used were carefully selected according to Clarins eco-responsible guidelines aimed at reducing our environmental footprint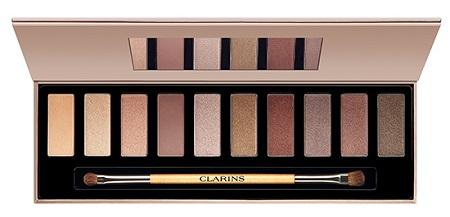 Essentials Eye Palette – Clarins
Clarins Essentials Eye Palette ($45.00) (Limited Edition)
By purchasing the Essentials Eye Palette you are supporting Clarins initiative to perserve the Kuntanawa culture and ecosystem. Originating from the Amazon in Brazil, the Kuntanawa community struggle to maintain their culture as deforestation threatens their environment every day.
In partnership with the PurProject organization, Clarins is dedicated to preserving the Kuntanawa culture by planting 10,000 trees known for their medical and cosmetic properties, allowing them the means to live in total independence and in harmony with nature.
Clarins researchers have always based part of their work on this observation of nature to create plant-derived products that have innovative performances. Several Clarins products are based on biomimicry. Always searching for the most active plant extracts, Clarins Research works with a network of botanists who study traditional plant usage worldwide. Their work has been validated by rigorous scientific experiments, has opened the way towards innovation, and has allowed Clarins to become a renowned pioneer in skin care. Each plant is carefully analyzed and screened so that it delivers only the very best. The most active part of the plant (leaf, flower, stem or root) is selected based on strict performance criteria (including safety) and is used in the most effective concentration.