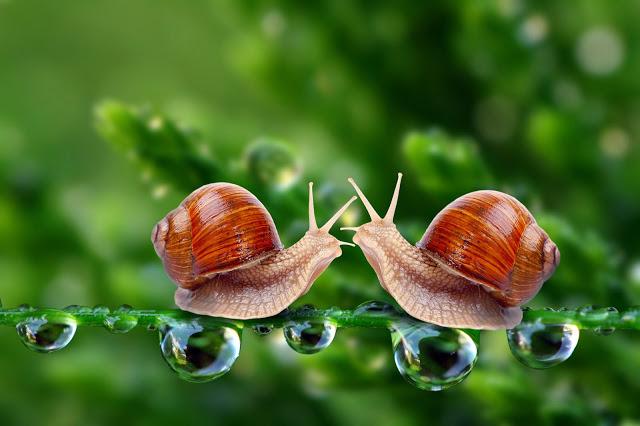 It seems like women will try anything in their quest for younger looking skin. Baby lamb placenta, funky mushrooms, sea kelp harvested at a specific time of a month, specks of gold in creams, crushed diamonds, snail's slime…
Yes snail's slime. Not even kidding, There is a face cream (gel actually) out there that contains pure extract of snail's slime.
Dr Organic have noticed that snails farmers in Chile had unusually soft and hydrated hands, any cuts and grazes would heal much quicker. The scientists from the company did some testing on snails secretions and noticed high levels of collagen, elastin, allantoin (what I think is the main active here to provide wound healing), glycolic acid and other antibacterial substances that help in healing and smoothing the skin. Apparently snails can also regenerate their shells when broken, who knew? The extract is called Helix Aspersia Muller.
Dr Organic people mixed the slime with the aloe vera gel and some nice smelling lime and lemongrass oils to produce this lightweight gel. No idea what the slime in itself smells like but this gel is refreshingly citrusy. A bit clean and medicated even.
They must be trying to overcompensate for the slime…
So how will they sell it and who will buy it?
The gel is marketed as soothing under moisturizer treatment, good for repairing wrinkles and for general cell turnaround.
Do people even like snails?
I don't. They are horrible, slippery and they eat my fruit and veg in the garden.
I put copper tape and eggshells to prevent them from eating my cucumbers and when I see snails I cover them with salt. I am an animal lover but I see snails as pests. No love lost between us. They are even not that slow for my liking, And now how do I go about smothering myself with their slime in pursuit of smoother skin?
Well, I've tried it. Made me cringe for a bit, but got over it. The gel is very lightweight and moisturizing.

 

Dr Organic must be very confident about its effectiveness as they are actively marketing the snail's shell on the packaging, not sure I'd go that way, but hey I guess the controversy is always interesting.
If you didn't know what was in it, would you buy it or would you buy it regardless? I really want to know!