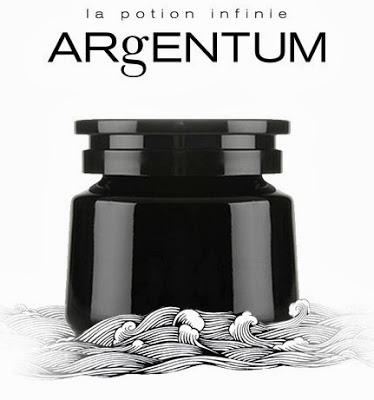 From time to time I get sent products from PRs in exchange for make up credits in magazines or because they like my blog. I tend to be picky on what I write about, as I don't want my blog to sound like a press release platform – there are many blogs doing that already. So I'll try plenty of products but some just don't stand out for me, in a good or a bad way.
One of the products got sent was "La Potion Infinie" and I have to say that the packaging was just great – in a simple black pot (my favorite colour) with a specially designed card that portrays one of the twelve archetypes of the "la maison" which is Argentum Apothecary. I have to say that the name Argentum Apothecary confused me in the beginning as I thought it was a chemist that sold many different brands. Well it's a brand, so it's either confusing or I was being thick, but it's all good now.
The brand has one product only, La Potion Infinie, that can be used by both men and women, all over the face, neck and around eyes. Certainly the packaging won't be out of place in a man's bathroom.
But, as well thought out the packaging and the story behind the twelve archetypes can be, the product actually is amazing. Yes the 'la maison' thing is all gimmicky, each jar coming with a serial number… it reminds me a lot of Crème de La Mer marketing story. Yes maybe there are too many product launches these days so the new product has to stand out with something, but for me, this cream is stands out as it actually works.
I've been using it now for a couple of weeks and from the first application I felt like my skin was being tightened, but not in a bad and uncomfortable way. It just looked more toned, my pores looked finer and skin felt firmer and hydrated. I didn't feel like I was smothered in silicones and useless fillers, the texture of the cream is somewhat liquid, and the feel on the skin is matte. 
What's so special about it?
The two main actives are Silver hydrosol and DNA HP. Silver hydrosol is also called colloidal silver and it's somewhat controversial. It's widely used in dog owners' community as a healing and antibacterial agent. But there are also some wild claims that promise that silver will cure  pretty much everything, including cancer.
How does colloidal silver work?
Silver is not produced by our bodies, we don't really need it, we don't get deficient of it either. But it's toxic for bacteria and fungi and it's a great antiseptic that comes from just one element (Ag)
The effectiveness of silver compounds as an antiseptic is based on the ability of the biologically active silver ion (

Ag
+
) to irreversibly damage key enzyme systems in the cell membranes of pathogens.
From all the elements that have that effect to bacteria, silver is one that is the least toxic to us. Silver is widely used in medicine for wound dressings and it can be used as a dietary supplement.

 

But efficacy of it as a 'do it all cure' has been proven as ineffective. However I have ordered some colloidal silver to try as a supplement – that shows a bit how impressed I was with "La Potion Infinie".
The second active is DNA HP, which stands

for
hyper polymerised deoxyribonucleic acid. I don't actually know what the extracted DNA is from, but the brand says the DNA is from a marine based ingredient that acts like an antioxidant that regenerates tissue and also delivers hydration to the skin. The DNA ingredient works by trapping the toxic radical called hydroxyl, which affects both collagen and elastin. And the way it delivers the hydration to the skin is different from other creams – something about the cream's molecular weight that attracts water into the subcutaneous layers of the skin.
What else is in the "La Potion Infinie". Lots of good stuff actually. One of them, caffeine, gives the skin that immediate lift, but the others are very nourishing such as argan oil, shea butter, sweet almond oil, coconut oil, sunflower oil, aloe vera, tocopherol. Lovers of the "green" products will be pleased with the ingredients list as the cream has 99.5% ingredients from natural origins.
The one thing I don't like about the "La Potion Infinie" is the price, sadly it retails at £147. It seems like these days high prices for skincare are a must, but I do like that the product actually looks and feels luxurious. And with the super stylish packaging it will definitely make a good present....
For me. Send it to me please. I will be forever grateful.
The i
ngredients, as picked up from the brand's website: Colloidal Silver, Cetearyl Alcohol, Hydrogenated Vegetable Glycerides, Dicaprylyl Carbonate, Prunus Amygdalus Dulcis Oil, Glycerin, Argania Spinosa Kernel Oil, Butyrospermum Parkii Butter, Caprylic/Capric Triglyceride, Aqua, Cetearyl Glucoside, Caffeine, Sodium DNA, Sodium Stearoyl Glutamate, Helianthus Annuus Seed Oil, Xanthan Gum, Aloe Barbadensis Leaf Extract, Parfum, Potassium Sorbate, Tocopherol, Sodium Benzoate, Citric Acid, Limonene, Linalool, Eugenol