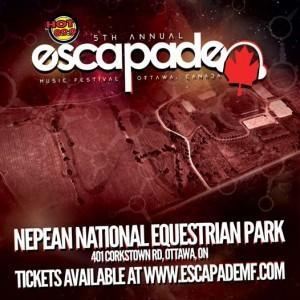 escapade
If you are a fan of electronic music then chances are you spent much of the day glued to Hot 89.9 or social media for the unveiling of phase 1 of the 2014 escapade line-up. 
I'm not going to pretend to be an expert on today's electronic music.  I listened to the likes of Paul Oakenfold and Chris Shepard.  Of course I know modern acts like Tiësto partially thanks to his appearance at Ottawa Bluesfest a few years ago.  The buzz about this year's escapade line-up is very positive and I'll be checking with my resident electronic music expert, stepson, to get his feedback. 
The event had an interesting method of announcing the acts, starting at 9:30am they announced an act an hour until all had been released by 6:30pm.  Without further ado here's phase 1 of the lineup:
Click to view slideshow.
Back for a third consecutive year is Ben Gold. Ben will be the host of the #GoldRush Arena and the creator behind the upcoming official Escapade Anthem!
Next up was Australian duo Nervo, sisters Mim and Liv Nervo made their name by writing smash singles for artists like Ke$ha and Kylie Minogue, remixing superstars like Katy Perry and Thirty Seconds to Mars, and joining forces with David Guetta to co-write his Grammy-winning "When Love Takes Over."  Nervo will appear on the festival's Main Stage.
English DJ Zomboy has had an explosive few years since making the transition from his sound engineering background into full-time music production, and his dynamic rise to global recognition has been quite something to watch.  He will perform in the TEMPLE OF BASS!
Toolroom Records bossman Mark Knight  has become one of the most successful DJs and producers on the planet, responsible for some of the biggest dance tracks of the last decade.  Mark can be found as part of the Tech Fusion Tent line-up at this summer's event!
Madis Sillamo aka Beat Service has been firing up a string of Top ten hits on the Beatport Trance Top 100 for the last three year with "Not This Time", Fortuna", "Outsider", "Charged", "Solo", "Cut and Run", "Impulse", "Mars" and "But I Did" among the many while remixing some of the major forces in the scene: Armin van Buuren, Markus Schulz, Susana, George Acosta, Lange, Rex Mundi, Moonbeam all the way to the UK number 1 single "Infinity" by Guru Josh! Beat Service will be part of the #GoldRush arena hosted by Ben Gold.
Marcio Alvarado aka Alvin Risk  is an American electronic music producer, singer and DJ from Washington, D.C. He has released music on OWSLA, Dim Mak, and Ministry of Sound.  Alvin will be part of the TEMPLE OF BASS!
Born and raised in Paramaribo, Clyde Narain devoted himself completely to music and had played many records from a young age. He started out by deejaying at friend-related events, but would soon be known for hyping up many clubs and events as deejay "Chuckie". He successfully proved his skills to be true and his innovative and energetic mixing skills are still making him one of the most popular artists of the moment. Crossing various genres, Chuckie has put his stamp upon the music industry and he still grows into a high mark in the international dancescene.  Chuckie is part of the Main Stage lineup!
Hot Creations' Lee Foss featuring Anabel Englund headline #TheDeepEnd
His tracks have been featured on Armin van Buuren's 'A State of Trance' compilation 3 years in a row! Mark Sixma / M6 will join the#GoldRush Arena hosted by Ben Gold
She will keep you moving until the early morning hours and is ready to teach Ottawa a thing or ten about Techno! Nicole Moudaber joins the lineup in the Tech Fusion Tent!
The next Main Stage artists' head banging, unmistakable locks at large and fist in the air, Tommy Trash is not your stereotypical dance music icon. Armed with an arsenal of his own carefully created anthems, he has rejected the clean-shaven no-nonsense image of many a peer. Tommy's work hard play hard antics have carved him a unique position in a scene in desperate need of rebels. Outside his party-hard stage presence, the Grammy and VMA nominated producer's approach to mind-blowing music remains as heartfelt as they come. With Platinum records around the world, singles on labels ranging from Axtone to Fool's Gold, from Refune to Mau5trap, and from Spinnin' to Owsla and Boys Noize, every new installment of his diverse, floor-filling productions lay testament to the pride the Aussie takes in his blazing, musical legacy. It's no wonder that the likes of Rolling Stone and MTV have marked him out as 'One To Watch'.  
At only 23 years of age, Mackenzie Johnson has achieved an almost unfathomable amount of success. His dedication to his craft and ambition to surpass any and all competitors will further propel MAKJ higher than he could ever have imagined.  He had bad luck and was terribly sick on the Ottawa leg of the Rattle & Roll tour but he's back and he's on the Main Stage for 2014!
They recently performed a guest mix on Diplo and Friends and just had their most recent remix signed to A-Trak's Fool's Gold Records! Thugli joins the lineup inside the Temple of Bass! 
The next act to join the Tech Fusion Tent, Pleasurekraft can be described as a simultaneously visceral and cerebral experience induced only by the seductive, deep, groove heavy, underground techno inspired music that you hear the kids listening to .. – Common side effects include: unrelenting head bobbing giving way to complete surrender to physical movement commonly referred to as 'dancing'. 
Original, emotional, visceral. These are all words that are used to describe Noisia's music and each is more than justified. In less than a decade the Dutch trio, renowned for their unparalleled technical skill, has gone from releasing drum & bass on now defunct independent labels to crossing multiple genres, scoring for triple A video games, having their music used on trailers for Hollywood blockbusters and producing and remixing tracks for some of the world's biggest artists. As part of the lineup inside the Temple of Bass there's little doubt this will be a rocking set!
Enjoying artistic freedom afforded only an elite few, Fedde Le Grand is a masterful pioneer of electronica, considered by countless fans and artists as one of the single most defining figures in house music. Whether as DJ or producer, Fedde's influence can be felt throughout the electronic landscape; his creative beats, grooves, melodies and rhythms surround us. You will find Fredde on the Main Stage this summer.
The tale of Danny Tenaglia's love affair with music, and the world's subsequent romance with him, is one of the critical veins in the body of dance music. He is every dancer's secret discovery; a random purchase at the record store, a reluctant night out that unexpectedly turned magic. Explosive success came not behind a major label release, or a world tour, or a radio hit remix: It happened when enough people had the private Tenaglia experience for themselves.  Danny will be headlining the Tech Fusion Stage!
Dedicated, hardworking, and energetic – three words that is probably the best attempt to briefly describe what the Norwegian hot-shot Ørjan Nilsen is about. In the last few years he has been wow'ing audiences across the planet with his take on what a 21st century DJ and producer should be about.  As a treat to trance fans  Ørjan will join the #GoldRush Arena with Ben Gold!
It really is one hell of a story. Two brothers, hailing from the sleepy town of Willebroek in Belgium, rising through the hard-fought over ranks of the EDM elite, conquering the planet's biggest festivals and dance floors and releasing some of the most successful, chart-topping releases in recent history. For Dimitri Vegas & Like Mike, now cemented in the pantheon of electronic greats with a #6 position in the 2013 DJ Mag Top 100, five Beatport #1 hits this year alone, an incredible 2 million+ fans on Facebook, their hit 'Smash The House Radio' show and their debut 20,000 capacity arena showcase 'Bringing Home The Madness' selling out in under 24 hours, the world is now absolutely at their feet. The #6 ranked DJ's in the world join the killer Main Stage lineup.
Previously announced was escapade Does O' Canada, their annual Canada Party featuring: Dada Life, Project 46, WE ARE GTA, Ariyan, DJ Vito V,Domeno, FrathouseMusic, Stefano Lasne and Mayro!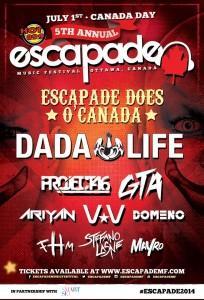 escapade does O Canada 2014
The 2014 escapade Music Festival kicks off on June 28th at Wesley Clover Park in Ottawa (formerly the Nepean National Equestrian Park). For more information and tickets visit www.escapedemf.com!