Erickson Beamon has long been known as a jewelry brand that creates stunning, one of a kind pieces that are at once innovative and exciting. These pieces are not something to be taken lightly and can instantly steal the show from anyone around. The brands creators, Karen Erickson and Vicki Sarge even claim to have coined the term chandelier earring in the 1980's. It stands to reason that after 30 years together, the two titans of design would begin to branch out and start solo projects. While there is no news currently of an Erickson solo career, Sarge is debuting her new collection this fall.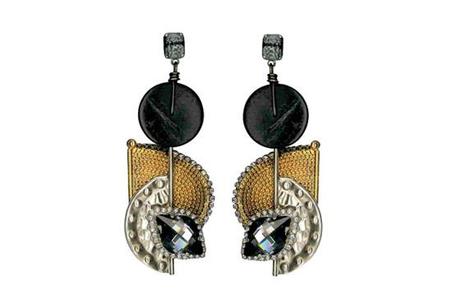 via W
Erickson Beamon was once a brand at the height of all things high fashion, though the brand is still going strong and has been after 30 years in existence, it has fallen a bit out of favor for collections from other new designers. Now is the time for small designers that have not ever been in the limelight. Shoppers want pieces that are unique, challenging and that are not your typical drop earring. Erickson Beamon is still a power house and no one should misunderstand that but it is certainly settling into its golden years as a brand on the edge.
Erickson Beamon is the go to brand when a customer wants something that is going to get them attention and keep it. Sarge brings some of her characteristic flare from the Erickson Beamon brand and creates her own masterpieces. These avant garde pieces are breathtaking. Employing the latest techniques in design and fabrication, Sarge has created pieces that are at once unique and classically beautiful. Much like the original Erickson Beamon brand, Sarge's new collection is art driven and features pieces that are worthier of being hung in a museum than from a starlet's ear.
Her pieces have both delicate designs and stunning shapes that are bold and whimsical all at once. These pieces are art driven so they may not be suitable for every wearer but they are certainly worth taking a peek at. Her pieces are made from the highest quality materials like the traditional gold and silver and even hand carved wood from artisans in Kenya. These pieces are truly remarkable and are a stark removal from any brand that has existed before. Sarge is challenging the boundaries that have been set for high fashion pieces and is trying to create new and innovative pieces that will get people talking.
These pieces feature bold details like tribal masks, chunky gold leaves, crystal accents, pom poms and more. This brand is certainly not one for the faint of heart but is perfect for that lady or gent that wants to make an impression without even opening their mouth. Sarge says of the brand that "People want extraordinary," she says. "They can get cute little stuff anywhere." This brand is certainly one to watch as the premier collection is heading to the runway this fall. This brand is sure to turn heads, get attention, and garner fantastic pieces that are well worth the time and attention that it took to create them.