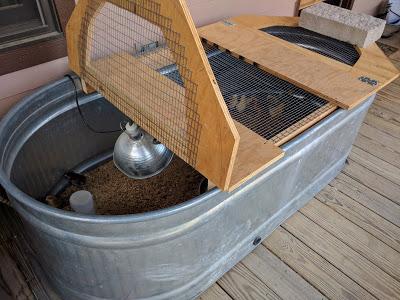 Part 2 of two-part series.
This episode:
Making furniture from reclaimed barnwood
The indispensability of the basic farm tractor
Last winter was the coldest winter so far
Living with a well and septic system
Backup electrical power
What if the stuff hits the fan?
What have we learned in five years about living in the country?
Pictured: 
Baby chick brooder fashioned from oval stock tank (hillbilly bathtub) and homemade lid.  Be sure to clamp or weight the lid to keep predators out--baby chicks are apparently delicious.
Errata: 
I refer to Alexandra Ocasio-Cortez, the surprise winner of the Democrat primary in New York's 19th Congressional district, as an "unwise Latina", which is correct, but I incorrectly name her "Gomez".  Must have been thinking of the Addams Family patriarch.
--------------------
Pete Ferron