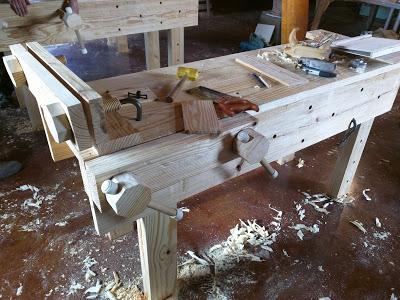 Long time listeners of TSOP will remember Don, a friend of the show and a good friend of mine.
Don is a materials scientist and craftsman of the very first order.  These days, he mostly works with wood, mostly using hand tools, which are a mixture of vintage, modern, and of his own design and manufacture.  Don's written multiple books on craftsmanship, and has an unbridled passion for wood finishes, with a conditional preference for hand-brushed or hand-rubbed shellac.
We recorded this show from the front porch of my home on Liberty Ridge.  You may hear some sounds of nature in the background.  Birds, mostly, though at one point my dog Lexi heard or smelled something in the woods and took off noisily to chase it.
Here are the questions I asked Don:
What brings you to Arkansas?
Trump—love him or hate him?
At least, thank God, we can trust the FBI....
John Derbyshire, Steve Sailer, the Z-man and others and the "dissident right?  Are you a member too?
Is the Pope Catholic?
One year from now—what will be in the headlines?
What happened to Apu?  (the Indian character on The Simpsons)
What makes shellac such a fantastic finish for wood?
Don's a very thoughtful and articulate observer of American politics and culture, and we agree on most topics.  I hope you enjoy his musings as much as I did.
Pictured:  My new Nicholson bench, which I constructed during the
Woodworking With Hand Tools
workshop Don conducted recently in Northwest Arkansas.
---------------
Pete Ferron