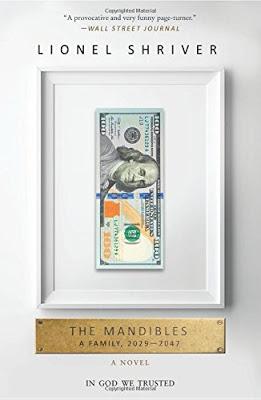 I recently came across an outstanding novel about economic collapse by Lionel Shriver,
The Mandibles, A Family, 2029-2047
.  (It's been out just over a year, but I'm a little slow, what can I say?)
I enjoyed
The Mandibles
so much that I've devoted the entire podcast to recounting the story and how it compares to "The Collapse" that so many of us have been anticipating (and talking about) for so long.
Lionel Shriver is a well-known award-winning author who turned her considerable literary talents not long ago to the unsustainable financial problems facing the U.S. and the rest of the world. The result is a supremely entertaining and realistic page-turner that immediately jumped to the top of my list of favorite "collapse fiction", a genre of that will some day be compared and contrasted to the real thing.
Well, we jump the comparison gun in this show, testing
The Mandibles
against various expectations we have for the upcoming real-world Collapse, including:
Stock market collapse
Demise of the dollar as the world's reserve currency
Repudiation of the US debt
Confiscation of gold
Hyperinflation (or will it be Deflation?)
Widespread civil unrest
Aftermath and recovery
I know I say this all the time, but this really
IS 
a great show!  Give it a listen!
***WARNING!***  This podcast is loaded to the rafters with plot spoilers--but the book is such a good read that won't matter!
-------------------------Pete Ferron