Jeff Rosentock has a new EP. It's called, "I look like shit," or as I like to call it "let's act happy and commit suicide together." On this album, as with most of what Rosentock does (whether it be with Bomb The Music industry! or Arrogant Songs of Bitches, or anything else he's involved with), you will find everything you're looking for in DIY. Crude vocals, spotty production, some experimentation, and an obvious ambition, all delivered in something that's thoroughly genuine. The lack of a tight polishing you'd find on a big production does not detract from the album. In fact, it does just the opposite. If all of these songs were slaved over for weeks in a studio half way across the country, they would without a doubt lose their honest charm.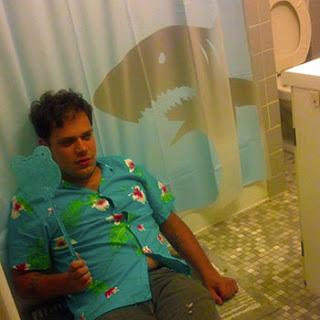 What's he talking about? Looks just like George Clooney to me.
If you haven't heard of this guy before,
do it now
. For almost a decade now, this guy has been recording and releasing original music he loves online, entirely for free. Just the other day, with no warning or promo, he posted this new release. But don't think that this means Rosenstock just quick did this effortlessly in half a day or something! No, he's no shlump. Just as with all his other releases, Rosenstrock wrote up a page on his tumblr discussing what went into the album. On it, it's revealed that these songs were drafts for BTMI, and an EP of slower songs, and some have been being worked on since 2010. The songs weren't made effortlessly, no, they have been thoroughly completed, all the right layers in tact with wartz and all. But just to complete the DIY package, Rosenstock juxtaposes his synopsis with a copy of all the lyrics, left with typos and discrepancies from the final recording.
The lyrics are insightful and crafted as well as impulsive and unpoetic, all at the same time. This is evident in climactic moments such as the conclusion to the penultimate track, Amen, in which Rosenstock sings 
 So what's the difference if the bombs fall from the sky/So what's the difference if you like being alive/Yeah what's the fucking point of thinking as you die/"Ya gotta forgive all my sins, God." Great imagery with a solid message delivered in a genuine voice.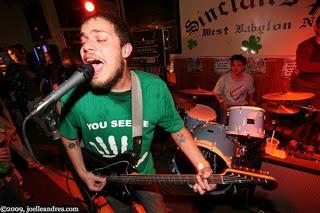 Pics like this just makes me wanna do a live show so damn bad.
However, the album does have it's flaws. For instance, the album is labeled as a compilation, and incorporates a few covers. Without these covers, which are honest in their style aren't original, the album would stand strong as an original stand-alone EP. Although they keep in line with the same themes (fear and death), they takeaway from the albums genuine feel, especially since one of them is a very climactic closer. Amen would have stood just fine as a closer. Further, in the heart of this album is a track titled "Little Blue Pills," which just has nothing interesting going for it, and it feels like Rosenstock is covering old ground that he might have already done on something like "Get Warmer," or even "Album Minus Band."
All in all, however, the album is a refreshing break from the music industry and the big productions that fill our Ipod's today. "I look like shit" is an EP that is DIY but still is refreshingly original and honest. Download it, it's free! It's one that'll be sure to take over your IPod for the next couple weeks with it's infectious atmosphere and solid song writing. And then, look up all of Jeff Rosenstock's other projects.
3.5/5.