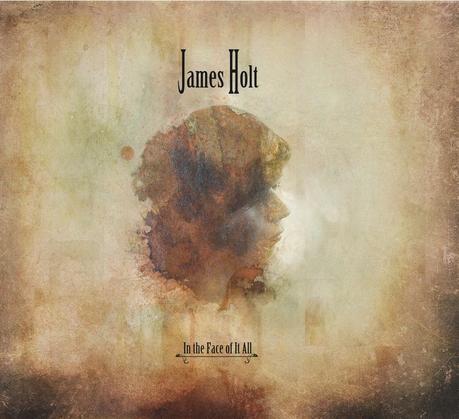 With his youthful, dynamically powerful and 
atmospherically inviting c
ompositional offerings, with a combination of vehemently urging rock'n'roll vibe and vibrant folk roots, it's hardly suprising to hear I was drawn into, familiar with James Holt's expressive and pointedly spirited music from the very start. And it's not because of the last name we share, but due to his music's vividly radiant charisma and its sensitive lyrical reflectiveness. The tonally characteristic and diverse set the manchester based singer/songwriter presents on soundcloud is already heralding the greatly creative and instinctive potential he holds as a musician, his soon to be released debut EP 'In  The Face Of It All' though gets to the heart of his candid, evocative and melodiously haunting musiciansship. Now, let's get there too ...
Opening his EP with 'Whatever Happened To John', Mr. Holt, who plays and has recorded all instruments featured on his debut record, showcases his fine sense of keen music-making, of strong instrumental harmonies and feisty tonal dynamics to the very point. Sonorously bracing harmonica buoyancy, upbeat and ponderously intensifying drum strolls, fiery and tense guitar impulsus merge, as the the song dashes with quirky melodic vivacity, with sometimes orientally-diffusive, sometimes rapidly fuzzy tonal friskiness, whilst confident, vigorously howling vocals dally with the thought of what would have happened to John Lennon if he had left the Beatles before their worldwide success, and tell of society's harsh, ironic 'rules' and social rejection in an astute and wittily charming manner. What a stellar lead-in! 
Make sure to watch James Holt's Samsara Session(s) 
'In The Face Of It All' unfolds with blissful and dreamily ambient acoustic guitar serenity, harmoniously enriched by vivace and briskly reverberative  percusssion melodics, by tingly and breezy, yet vivifyingly complex instrumental layers. And it's precisely this compositional ease that, in a convincing fashion, portrays the unintended, often unnoticed careless attitude of people, the 23-old singer/songwriter refers to in a haunting tone, whilst his voice remains gracefully light and smooth still.
James Holt reveals yet another timbric colour of his whilst 'To Go Where The Wind Blows' drifts gently: with a charismatically blithe and soft yet stirringly yearning voice, the musician reflects personal growth, the conflict that might arise from discrepancies between an established vision of oneself and an gradually altering one. Mellow and mildly sweeping, brisk instrumentals join and paint an apollonian, rich melodic picture about an emotional, both mental and actually experiential voyage.  
'I should have screamed' - a voluminous, passionately expressive voice full of regret laments over loss and missed chances, is, despite the bleak lyrical narration, accompanied by a refreshingly rhythmic and jaunty insrtumentation that is intertwined with soothingly dulcet and languorously shifting melodic episodes, which, accentuated by a more wistful vocal tinge, lucidly highlight the song's overall sorrowful mood, one that the track's title implied from its outset: 'Alone Again And Always'. 
A calm and dreamfully comforting sound is evoked by placid guitar play and sentimental, warmly whispering vocal vulnerability of teary, poignantly smooth timbre, as deep-felt lyrical vows to an uncertain, doubted lover imbue the air and reach out to, melt the listeners' hearts even. 'I Thought You Were Crying (But It Was Just The Rain)' is a pleasant and melodiously moving ballad of heart-felt emotion. 
A soulfully haunting and ardent vocal lead of mild timbric finish guides through 'Promises At Dawn', which comes in with a vibrant guitar pulse, with mellifluous harmonies and a subtly vivacious stream of percussions, alltogether proves to be a promising and brightly radiant song indeed.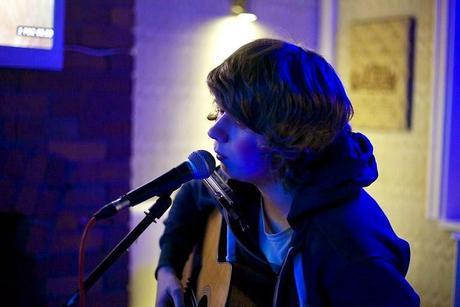 Reach out & listen to James Holt on ...
.. twitter ...
.. facebook ...
.. his official website ...
.. soundcloud ...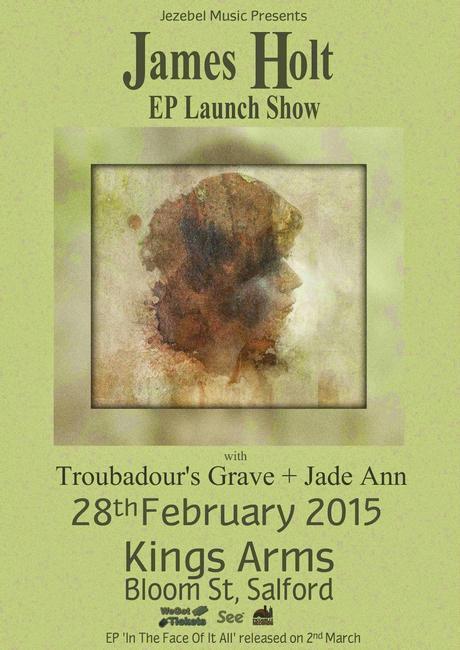 Don't miss James Holt's EP launch for 'In The Face Of It All' at Kings Arms (Salford) on 28th february.