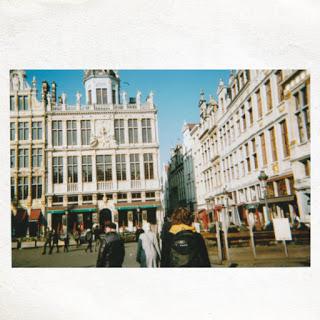 Valentine's Day. Festivities hold to vouch for what ties together two souls, two hearts beating as one, two minds indulging, longing in sync, moving one another, fueling mutual desire, stirring dreams and devotion. 
What bliss love can be, what comforting cure; and who are we not to celebrate its charm and appeal? So whilst some of you present a magnificent bouquet (a token of affection, of appreciation, of amour) to your beloved on this very day, an irish group of modern troubadours, equipped with a clear vision and a fine-grained, genuine sound, decided to present 'Plastic Flowers' instead, to all lovers of soppy as well as peppy exquisite lo-fi works, fizzing full of youthful, dashing spirit and sumptuous, sweet nostalgia to the brim. 
A sonic fragrancy poured out in an ardently upbeat yet hauntingly heavy-hearted fashion, closing track 'Plastic Flowers' casts its courageously vivid tonal spell in no time, captivates your senses (the aural one in particular) for about 3 minutes AND counting; 'cause one thing's for sure: you will eventually find it's a musical gift that keeps on giving, one that calls for repeat promptly. Along with this passionately pensive 'floral' tribute come promises of unfading love ('She Always Comes Up Smiling'), uttered in a delectably compelling way, so yearningly believable, so playfully smashing, comes a keen and candid narrative on top, one that has '(warmly) fervent and staggeringly sonorous style' written all over it ('The Letter A'). Add dainty and dynamically clangorous, charmingly dazzling and fearlessly sparkling flair to the list ('The Karma Party'), tick off jauntily jubilant and endearingly nonchalant vocal vibes ('Stop The Days'), too, and you've got a whole rollercoaster of (euphoric and infectious, bold and bittersweet) emotions provoked. 
A fresh, exciting breeze on the rise, 'Nothing Stays The Same' serves euphoniously gritty and daringly catchy, wistfully feisty radiance and reverb in equal measures, whereas the EP's long-titled short-time sweetheart 'You Can't Know Everything, I Don't Know Anything' shines brightest due to 'back-to-the-roots' acoustic-centered goodness while balancing poetically poignant still stirringly straight melodic delicacy in a professionally pleasing manner. 'A Cure For Living' (EP) might be an interim treat as album no. 2 is cultivated but it's an essential centerpiece nonetheless; clearly it shows that Cupid has aimed well and hit (both) the mark (and heart) unerringly here, on Valentine's Day in 2020; let's see how many of you will fall in love with Castlerock's finest five-piece brand new friend from now on. carpe carmina definitely did. Years ago already.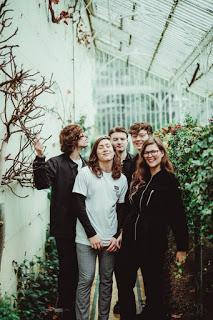 Reach out & listen to brand new friend on ....
.. twitter ..... facebook ..... soundcloud ..... bandcamp ..... spotify ...Take part in their frequent competitions, enjoy touring as well as gigging insights, treat yourself to live sessions on the band's instagram. 
Get their merch and music here.