As promised, I used the Wet N Wild Silent Treatment Trio I reviewed the other day and created an eye look that I have aptly named Wildly Neutral. Sticking with the drugstore theme, everything I used is drugstore!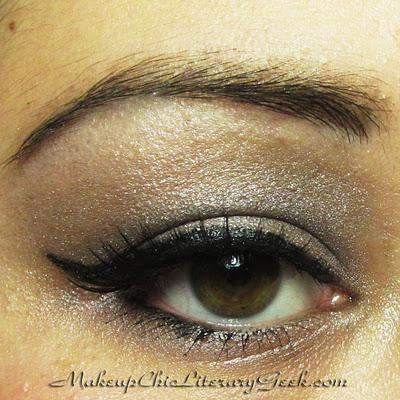 I thought I'd spice up my neutral eye with fun winged liner and doll-like lashes, which has actually become one of my signature looks!
Here's what I used...
Benefit Stay Don't Stray primer (the only non-drugstore product I used--sorry, I'm super picky about primer!) - patted all over lid and under eye
Wet N Wild Silent Treatment palette - I used the colors as suggested on the lid, crease, and brow. I was impressed by how pigmented the crease color actually was upon application. I did find the lid color to be a tad less light and shimmery that I like in the center of my lid, so I patted a touch of the browbone color onto the center of my lid.
Maybelline Liquid Liner in waterproof black - winged liner on upper lashline
Wet N Wild Color Icon eyeliner in Black - lined outer corner of lower waterline
L'Oreal Full N Soft mascara in waterproof black - lower lashes
Red Cherry lashes in #15
Duo lash glue
I found that the shadows wore very well over my primer with barely any fading. The maybelline waterproof liquid liner isn't my favorite as I find it a bit less smooth than I prefer, but it serves its purpose. The Wet N Wild color icon liner was pretty good, but the one spot on my face that has any oiliness to it is around the corners of my eyes a bit. I did have some smudging under the outer corners of my eyes. I'd suggest not using this pencil on your lower waterline if you have very oily eyes and choosing a waterproof and smudge-proof one instead. But for $.99, you may want to do a little trial and error! You can see my original review of the Wet N Wild trio in Silent Treatment and Wet N Wild Color Icon liner HERE.