I'm going to try my best to post more EOTDs this year! This one was inspired by the amazing pops of color I'm seeing in the new Spring beauty products coming out. I love, love, love how vibrant everything is!
Here's my Spring Sprite EOTD (I took pics at several angles so you can see all of the colors)...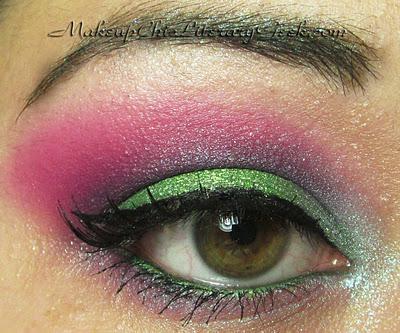 Here it is! I told you I was inspired by vibrant Spring colors. ;)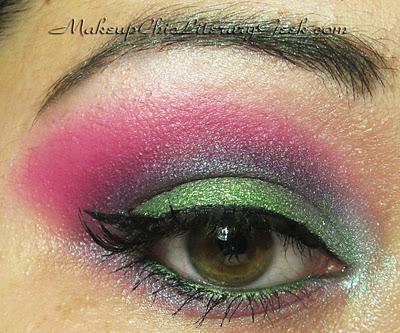 Looking downward - I wanted to make sure you could see the color blended into the crease.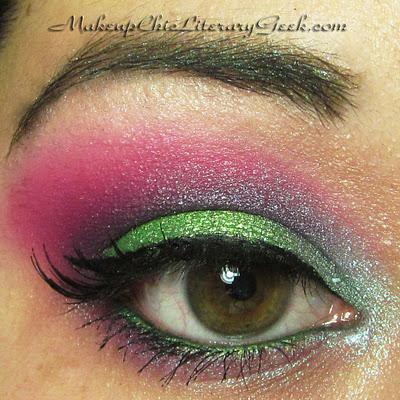 Straight on - This is what this EOTD looked like straight on.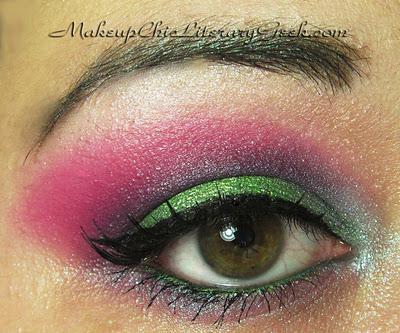 And one last picture for good measure!
What I used:
Benefit Stay Don't Stray Primer - patted all over lid and under eye
Rimmel Stir It Up in Out of the Blue - patted over lid
Sugarpill Absinthe - patted over Out of the Blue; patted over the Sephora flashy liner listed below
Sugarpill Dollipop - blended from edge of Absinthe up; pulled down under eye
Sugarpill Poison Plum - blended into crease; lightly pulled down around under eye over Dollipop
Sugarpill Lumi - patted into inner corner of eye on top and bottom; patted softly under eye; patted into eyebrow (this looked so pretty in person, but photographed a little off)
TheBalm Stubborn (from Nude Tude palette) - blended into edge of Dollipop and pulled up to brow
TheBalm Sassy (from Nude Tude palette) - patted along highest arch of my eyebrow
Sephora Flashy waterproof liner in #12 Flashy Green - lined lower waterline
Make Up For Ever Aqua Eyes Liner 0L - lined upper waterline
Maybelline Ultraliner in waterproof Black - lined upper lashline and pulled out into wing
Too Faced Deluxe Lash Injection mascara in black 
Faux Lash in Collette - adhered with Duo lash glue
I think that's it! I am in love with all of the products I used in this look,especially the shadows--they're on my list of necessity-products. I'm going to try to remember to link you to some of the main products I use in my EOTDs in case you fall in love! If you're interested in purchasing the Sugarpill shadows I used you can do so HERE. (affil link)  If you're interested in purchasing TheBalm Nude Tude palette (I highly recommend it) you can see it HERE. Too Faced Deluxe Lash Injection is my go-to mascara in combination with Maybelline Full N Soft mascara. You can see Deluxe Lash Injection HERE. And last but not least, Benefit Stay Don't Stray is one of my favorite primers. I'm
super
picky when it comes to primers for my eyes and this is one of the only ones I use regularly. You can view it HERE.