I love wearing bright, colorful shadows, but sometimes you just need a black smoky eye! I've been wanting to try Fyrinnae Otherworld over Sugarpill Bulletproof and this was the perfect chance.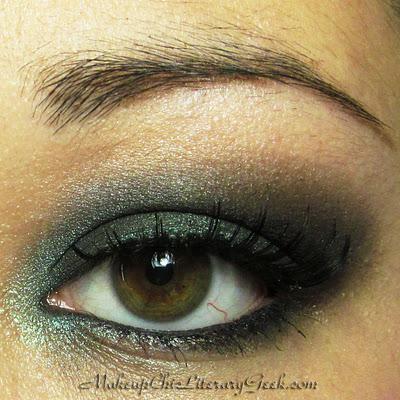 I love the way this turned out! The reason I named this Scifi Sultry was because I felt this look had a scifi-looking green glow (Fyrinnae Otherworld is quite the shifter so it changed from green to aqua to almost lime-like in this look) over the sultry black smokiness.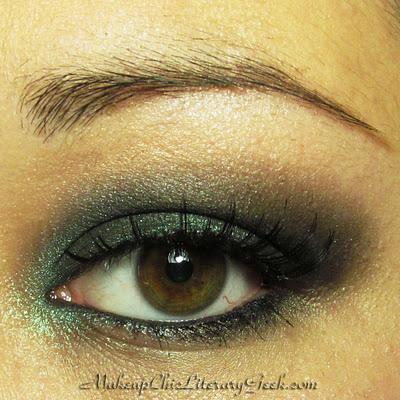 Here's a view from the side.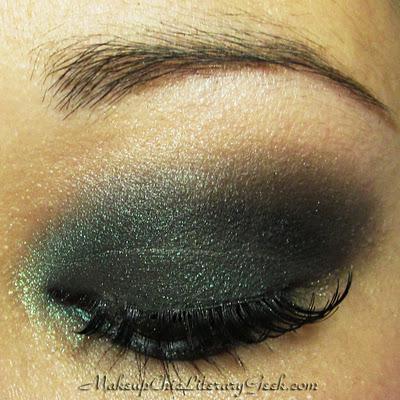 I wanted to give you makeup lovers a view of the full look so that you can see some of the blending.
What I used:
MAC Paint Pot in Soft Ochre (patted all over upper lid and below lower lashline instead of primer) - review of this product coming soon!
Sugarpill Bulletproof pressed shadow (patted over top lid and swept under lower lashline; blending into crease and pulled up a bit towards brow bone)
Fyrinnae Otherworld loose shadow (patted heavily over inner eye corner, then patted out over the rest of the upper lid gradually using a lighter hand; patted under lower lashline)
Victorian Disco Atrophine (patted under lower lashline over Sugarpill Buletteproof and under Fyrinnae Otherworld for a little extra dimension)
TheBalm Stand-offish from the Nude'Tude Palette (blended with a light hand from edge of Sugarpill Bullettproof up to brown bone)
TheBalm Sassy from the Nude'Tude Palette (blended lightly just under brow arch)
Make Up For Ever Aqua Eyes liner in 0L (lined upper and lower waterlines)
Faux Lash in Collete (using Duo lash glue) -  I feel like falsies in general can be touch-and-go and if you've followed me for a while you've probably read my posts on my difficulty with finding falsies that fit my eye shape, but Faux is my favorite company and this is my all-time favorite style to wear. I highly recommend them to anyone looking for amazing falsies!
Maybelline Full 'N Soft waterproof mascara in Very Black
I just want to say, for those of you that haven't tried Sugarpill's Bulletproof shadow, it is one of the blackest matte pressed shadows I've used. Obviously it looks a bit more subtle in my look because I patted another shadow over it, which lightened it, but you can definitely get a seriously black-black out of this shadow, which can be purchased on the Sugarpill site! Also, for anyone new to my blog, I also adore Fyrinnae loose shadows. If you want sparkle, color, and duos this is the indie company for you! TheBalm is a company that I feel gets less attention than it deserves. I have been blown away by the palettes I've purchased from them and I can't wait to continue to expand my collection and try a few other products, like their blushes.
What do you think? Would you wear this look?
Also, just for fun I wanted to post one last pic. My 5 year old has been in love with photography since he was 2--I kid you not. He got his first kid's digital camera at 2.5 and has taken pictures that have blown me, Hubs, and family away. He has an amazing eye for taking creative photos. He has watched me take pictures of myself for forever, and the other day he asked if he could take one of my eye pictures so I let him after I'd taken mine. He took this photo 100% by himself! Can you believe it? Yes, I am a nutty, proud mommy! ;)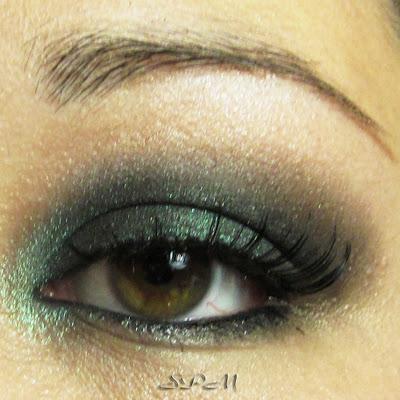 Taken by my son (5 years old) :)