Enviro-Stewards Inc's Engineers & Scientists is a true champion of the B Corp community. They serve as sustainability catalysts for industrial, commercial and institutional facilities and help companies grow while reducing their environmental footprint and improving social conditions. This past year Enviro-Stewards became B Certified with the help of Bob Willard. Once part of the B community, the company became very active in recruiting new Bs and spreading the word. One new recruit, Smart Watering Systems, even purchased Enviro-Stewards sustainability credits as holiday gifts. B Lab loved the idea and did the same for their board members. These festive donations allowed Enivro-Stewards to install biofilters to provide clean drinking water in three homes in Sudan.
Here is Enviro-Stewards' 'Be the Change' made possible by the B community.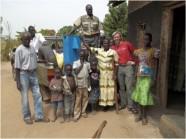 January 2012, Bruce helped install a biofilter donated by B lab for Jogo Regina. This community leader is a disabled single mother who cares for 3 children, 3 grandchildren and three orphans.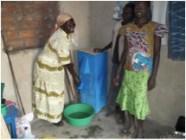 BSF Purifying Water in Regina's home
Sustainable Development in South Sudan
In 2007, Bruce Taylor or Enviro-Stewards helped launch a locally owned and operated small business in South Sudan to construct BioSand filters (BSFs).  Each BSF purifies more than 20,000 litres per year of drinking water and avoids approximately 3 tons per year of greenhouse gases (GHGs) that would otherwise be required to make the water drinkable (you can find out more about how BSFs work here).
On December 27th, 2011, Bruce left wintry Canada for his 8th annual trip to South Sudan.  Bruce and another team member (a volunteer from RIM) provided a three-day business course to the BSF team to increase the effectiveness of their business and hence benefit even greater numbers of people.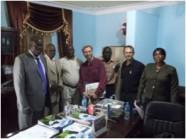 Expansion of BSF project to Juba
The current BSF project is based in Kajo Keji county, South Sudan and has been tremendously successful.  The next phase is to expand to Juba, which is the capital (and most populous) city in the region.  Currently, most Juba residents are drinking untreated water from the Nile River, which is delivered via trucks and pumped into a barrel outside their home.  During a meeting with the Minister of Environment for South Sudan, he emphasized that there are presently many deaths to water contamination.  He then directed his staff to set up a meeting with the Ministry of Health and local leaders to conduct a trial installation of some BSFs in Juba homes.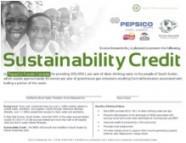 Sustainability Credits
Enviro-Stewards provides a unique opportunity to individuals and companies to support the BSF project in South Sudan by selling Sustainability Credits. One credit, which costs $100, funds the construction and installation of one BSF in a South Sudan home.  One such donated filter was installed in the home of Clementine, pictured above.  Clementine's husband abandoned the family, leaving her with four children to care for.  She and her children, as well as neighbours, will benefit immensely from the clean drinking water the filter will provide.  Clean drinking water means that Clementine will remain healthy and strong as she cares for her children, and her children will not have to miss school due to water-related illnesses that are rampant in the community.  If you copy and paste 03 47′ 09.0″N, 31 39′ 24.9″E into Google Maps or Google Earth, you can see exactly where the BSF is installed.