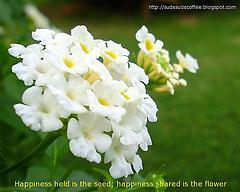 The ending quote this week on happiness goes right to the core of my continual call to action on these posts and how we create your life by the way we think –
Marcus Aurelius said, "The happiness of your life depends upon the quality of your thoughts; therefore, guard accordingly, and take care that you entertain no notion unsuitable to virtue and reasonable nature."
So there you have it – entertain no notion (what a fab way to say it) that your thoughts are not the most important thing about you, your life, relationships and results – for happiness and everything!
I would also like to leave you this week with a creed by Christian D. Larson:
To be so strong that nothing can disturb your peace of mind;
to talk health, happiness and prosperity;
to make your friends feel that there is something in them;
to look on the sunny side of everything;
to think only of the best;
to be just as enthusiastic about the successes of others as you are about your own;
to forget the mistakes of the past and profit by them;
to wear a cheerful countenance and give a smile to everyone you meet;
to be too large for worry, too noble for anger, too strong for fear, and too happy to permit the presence of trouble."
These inspire me – I hope they do the same for you!
Our Friday funny is also a good reminder to be more like the above creed – and be gracious!
A lawyer had successfully handled a difficult law case for a wealthy friend.
Following the happy outcome of the case, the friend and client called on the lawyer, expressed his appreciation of his work and handed him a handsome Moroccan leather wallet.
The lawyer looked at the wallet in astonishment and handed it back with a sharp reminder that a wallet could not possibly compensate him for his services. "My fee for that work," acidly snapped the attorney, "is five hundred dollars."
The client opened the wallet, removed a one-thousand dollar bill, replaced it with a five-hundred dollar bill and handed it back to the lawyer with a smile.
You Create Your Day by the way You Think! Be Present!
Go make it a Magnificent Day!
Blessings, Shawna
www.RelationalResults.com