March brings another one of our fantastic contests – this time, you get a chance to win a Samsung Galaxy Note 10.1!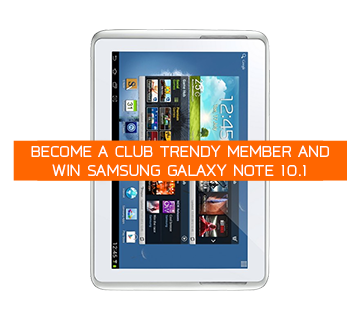 Become a Club Trendy member and win a Galaxy Note 10.1!
The Galaxy Note 10.1 comes with a 10.1in screen, 2GB of RAM and a 1.4GHz quad-core processor, as well as other great features, which definitely make it one of the most popular tablets out there. If you would like to participate in our contest and try to win it, go to our Club Trendy page, register and become a member. Registration is free and you also get to use our 7% Club Trendy discount!
After you've registered (or if you're already a member), all you need to do is buy one of our products between March 1 and 31. The contest ends on April 1 and the winner will be announced on April 3!
Good luck!

* Our Club Trendy discount can be used only with specific products that cost under 135 EUR.