Early mornings can really take their toll on your eyes as they can appear dull, small or just in need of a few more nights sleep. There are so many tricks that you can use to make your eyes appear bigger and more awake but what I like to do is open up my eyes with nude coloured pencils. My two favourites are the Rimmel Scandaleyes Kohl Kajal Eyeliner in Nude and the Collection Work the Colour Eyeshadow Pencil in Vanilla Sky.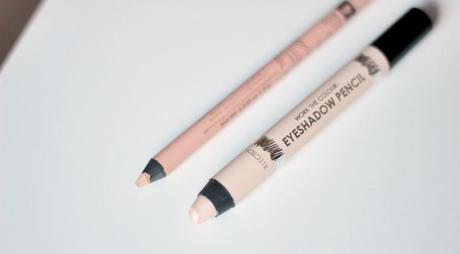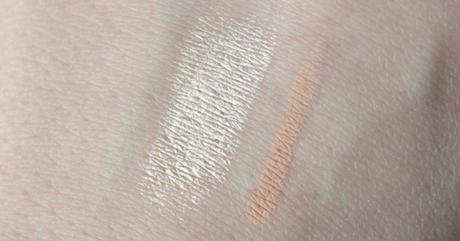 Swatches L-R: Collection Work the Colour Eyeshadow Pencil & Rimmel Scandaleyes Kohl Kajal
The Rimmel Scandaleyes Waterproof Kohl Kajal eyeliner in Nude is of course a neutral nude color for the eyes. As you can see from the swatch above, the color isn't exactly the most flattering nude shade against my skin tone which initially put me off but there's no need to worry as it still looks great when applied to my waterline. The yellow tones of the eyeliner really do a good job of opening up my eyes and there's a nice contrast between this liner and black mascara so your eyes really do pop without being too in your face. The waterproof formula of this pencil means that it lasts all day long and doesn't budge, even after busy days at work. These kohl kajal liners are so affordable at £3.99 (link) and I'm now tempted to go back and try the Black and Taupe shades for tightlining my eyes.
The Collection Work the Colour Eyeshadow Pencil in Vanilla Sky is another great alternative for brightening your eyes and this time the shade is a metallic nude. The pencil is intended for use all over the lid and it does its job of giving you a pretty champagne coloured base before eyeshadow very well, although you need to be quick when blending as the formula dries very quickly and doesn't budge once dried. I've also found this pencil to be great for applying to the tear ducts in order to open up the corner of your eyes as the shimmery shade is a great highlight. You could even use this pencil on the waterline although its larger size would make this a bit more difficult in comparison to the smaller pencil from Rimmel. This eyeshadow pencil is also very affordable at just £3.19 (link) so I'd highly recommend it as a multi-purpose product!