If you're new to English Wedding, you may want to subscribe to my RSS feed. Thanks for visiting!
I'm in a simple mood: no fancy words, just "what it says on the tin".
I've reduced the price of sponsoring English Wedding, so any wedding business who'd like to get your ad on the sidebar over there —–>…
…as well as getting your own English Wedding Showcase page into the bargain, now's the time to do it.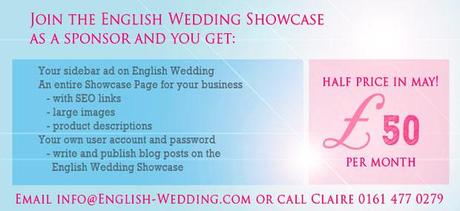 Because I had a birthday, because it's May and I love May, because I'm happy and because I want the English Wedding Showcase to have a real buzz to it – I've slashed sponsorship rates by half.
Info is at www.English-Wedding-Showcase.com.
The offer lasts for all of this month.
As blog sponsorship goes, the Showcase here is pretty special – it needs YOU to help me give it a kick up the bum and get it moving.
Claire xxx