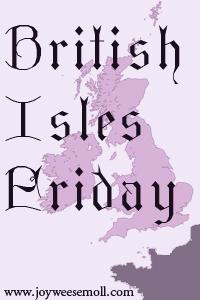 Welcome to British Isles Friday! British Isles Friday is a weekly event for sharing all things British — reviews, photos, opinions, trip reports, guides, links, resources, personal stories, interviews, and research posts. Join us each Friday to link your British-themed content and to see what others have to share. The link list is at the bottom of this post. Pour a cup of tea or lift a pint and join our link party!
---
As I promised last week, here are links to all of my posts about our England trip in September 2014 from beginning to end.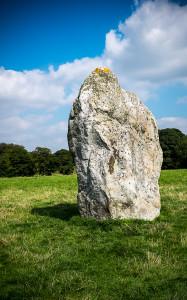 We stopped at Avebury — a larger stone circle than Stonehenge where you can walk right up to the stones.
Day 1. Wednesday, September 10.
Heathrow to Bath, with an unexpected event along the way
Day 2. Thursday, September 11.
Orientation: Bath
Day 3. Friday, September 12.
Roman Baths
Tea in the Pump Room
Bath Abbey
Bath Abbey, Tower Tour
Day 4. Saturday, September 13.
Day trip to Bristol
Brunel's SS Great Britain, in Bristol
Day 5. Sunday, September 14.
On to Birmingham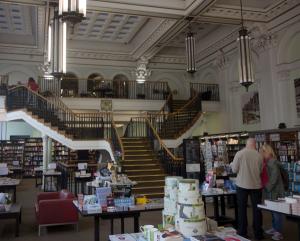 The beautiful interior of Waterstone's book store in Birmingham
Day 6. Monday, September 15.
ThinkTank, Birmingham's science museum — with steam engines!
Day 7. Tuesday, September 16.
Orientation: Birmingham
Day 8. Wednesday, September 17.
Black Country Living Museum
Day 9. Thursday, September 18.
Library of Birmingham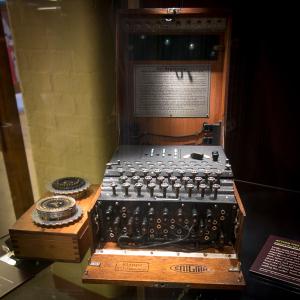 An Enigma machine
Day 10. Friday, September 19.
Bletchley Park
Day 11. Saturday, September 20.
Birmingham Back-to-Backs
Day 12. Sunday, September 21.
St. Martin in the Bullring, Birmingham, to the sound of bells
A Glimpse of London
Day 13. Monday, September 22.
Orientation: London
Day 14. Tuesday, September 23.
The Lure of the Underground Tour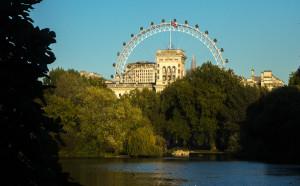 Neither the London Eye or the building housing the Foreign and Commonwealth Office would have been part of Benjamin Franklin's view from St. James's Park.
Day 15. Wednesday, September 24.
A Walk east along the Thames
Benjamin Franklin House & St. James's Park
Day 16. Thursday, September 25.
Boat to Greenwich
Greenwich
Day 17. Friday, September 26.
Science Museum: Steam Engines
Science Museum: Computers, Models, and Clocks
Buckingham Palace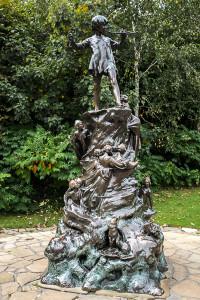 Of course, I had to visit the Peter Pan Statue in Kensington Gardens
Day 18. Saturday, September 27.
Hyde Park & Kensington Gardens
Day 19. Sunday, September 28.
Trafalgar Square to the sound of bells
Crofton Pumping Station
Day 20. Monday, September 29.
The Science Museum & Harrods
Day 21. Tuesday, September 30.
A Walk south along the Thames
A bonus post: Our Fish and Chip Experiences in England
I hope you enjoyed this tour of England via posts and photos. It was fun re-living it!
What did we miss? I'm already making a list of sites to visit on our next trip.